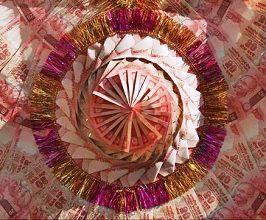 Sukhdev, a private security guard in Kolkata, had invested Rs 30,000 in one of Rose Valley's money-pooling schemes about four years ago -- on assurance that the amount would double in five years.

In the aftermath of Saradha's collapse, Sukhdev wants an early redemption but has been told by his agent that he would lose Rs 6,000 on the principal amount.

There was no pre-maturity clause in the original scheme, which said Sukhdev was depositing Rs 30,000 for booking a room at the Rose Valley resort.

On cancellation of booking after five years, he was entitled to get Rs 60,000.

There are many like Sukhdev who want early redemption in the wake of the Saradha scam. Some companies like Rose Valley are open to the proposition but are deducting from the principal, in a bid to cap their losses.

According to Rose Valley Group Chairman Gautam Kundu, the company has paid Rs 120 crore (Rs 1.2 billion) to depositors, and the company's board has earmarked Rs 500 crore (Rs 5 billion) for meeting redemption needs over the next two months.

Kundu, however, said an early withdrawal penalty was 5-10 per cent on principal, not 20 per cent as one of his agents claimed.

Ever since the Saradha scam surfaced, companies have been flooded with applications for early redemption and are imposing hefty fines for premature withdrawals, as there are no proper laws governing the deposit-taking
business.
Prayag Group, which temporarily shut operations following a raid by the Kolkata Police, was contemplating refunding the principal after deducting 20-25 per cent of the principal value, an agent of the company said.
Viswamitra India Pariwar, on the other hand, claimed it was refunding the entire principal amount to depositors.
"In the current scenario, there have been some refund claims.
"In such cases, we are refunding only the principal amount on the basis of recommendations made by our agents," Nizamin, a manager of the company said.
Companies that can't refund cash are doing it in kind.
A deposit-taking company is offering its products like mini-tractor and water purifier in lieu of investment.
Some other companies, meanwhile, have stood their ground.
MPS Greenery Developers, for example, has been collecting money through collective investment schemes and has refused premature withdrawal of investment.
"The media and political parties are creating a crisis. We are not allowing premature withdrawal, as there is no such clause in CIS," said MPS Group Chairman P N Manna.
Last week, the owner of Kolkata-based Tower Group, Ramendu Chattopadhyay, had called a press meet to dispel the negativity surrounding multi-level marketing companies engaged in raising public deposit.
He admitted his firm was also facing difficulties in repayment.