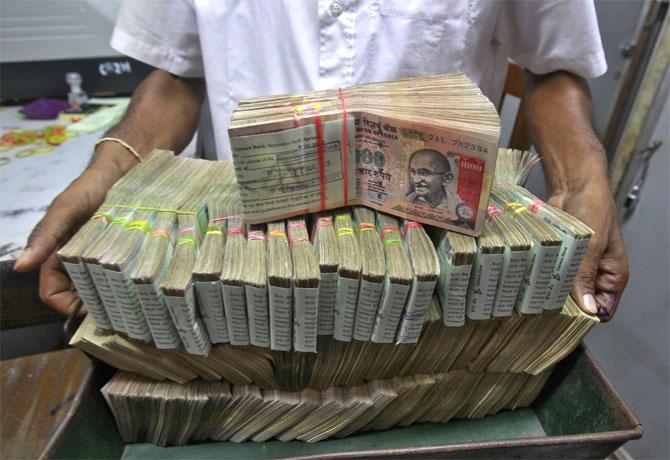 'For now, I am a lone ranger.'
There are very few people who would have Rs 100 crore (Rs 1 billion) to invest. With such money, there are several who would retire.
Sandeep Goyal, below left, who made the money five years ago, after he sold his stake in Dentsu, decided to use his time differently.
After running Mogae Media since his exit from Dentsu, Goyal got another juicy exit from Food Food, which had celebrity chef Sanjeev Kapoor as a significant shareholder, when he sold his stake to Discovery Channel.
With that, the adman decided to turn investor.
Goyal said he would have stepped in as a big-name investor earlier but had to wait until the market, which had heated due to unfeasible valuations and targets, had cooled down.
"The intent is to look at companies that were once well funded, invested in creating a recognised brand, but have now run out of funds and, maybe, even ideas. It is my belief that there are many such options available.
"We should be able to find some good ones there," said Goyal.
However, this means most of his investments will come on a later stage.
"We are looking at this more as a reconstruction or re-launch fund.
"As a close banker friend of mine called it, ours is a Rs 100-crore second innings fund," he added.
Currently, Goyal hasn't decided on what the ticket sizes would be or what kind of exits he could look at but he doesn't rule out asking an investment banker to help him pick his companies.
He will also use Mogae Media as his investment vehicle.
"We are putting aside Rs 100 crore (Rs 1 billion) to start with from the Mogae kitty.
"Separately, Mogae Media has an investible capital of Rs 100 crore that we raised from Renuka Ramnath's Multiples PE, which we were to use for StarStar, but is still largely unutilised," he said.
Goyal, however, believes he will take to the new role like a fish to water.
He points to his experience running Rediffusion, Zee Telefilms and Dentsu, which will help him shape these struggling companies.
And, due to the nature of companies he is planning to invest in, he sees an evolving role at these firms.
"I am equally comfortable in a hands-on role, as that of a mentor.
"But at the beginning, I think a more hands-on approach will be required," Goyal added.
But, the question remains if has had experience changing the shape of a struggling brand.
Taking on the likes of a well-established powerhouse such as Zee Telefilms is different from running struggling tech brands, which need him to get down and dirty.
Goyal responds that he came close to taking on fading brands a few times.
"We were once in active discussions to buy out Comviva from Airtel.
"It eventually got sold to Tech Mahindra. I still think we would have made a better fit but there is no point looking back," he said.
Goyal said he also tried to buy out ColorPlus from Raymond a few years ago.
"But, we didn't make much progress because valuations were way out. Similarly, we did look at Spykar, too, at the same time but since ColorPlus didn't progress, we abandoned that," he added.
He also tried his hand at taking over a news channel.
"But, my co-investors were all from overseas. Hence, we would have crossed the investment cap. I am hoping we'll be luckier in our quest this time around with our conversions," he said.
Does he model himself around any existing investor?
"Not really. For now, I am a lone ranger," he said as he signed off.
Top image is used for representational purpose only. Photograph: Reuters