Veteran ethnic Indian leader Samy Vellu, Malaysia's new envoy on infrastructure, is heading to New Delhi this week to scout for opportunities for Malaysian businesses to foray into the Indian market.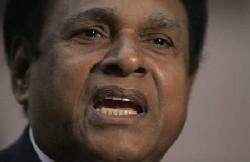 Vellu, who assumed duties as Malaysia's special envoy with ministerial rank, on infrastructure to India and South Asia, will be leading a 150-strong Malaysian Indian delegation to the ninth Pravasi Bharatiya Divas, when he flies to India on Thursday.

The 74-year-old stepped down as head of the country's largest ethnic Indian political party, the Malaysian Indian Congress, last month after being its president for 31 years.

The former works minister is scheduled to hold talks with high-ranking Indian government officials on the sidelines of the four-day conference in New Delhi to prepare the ground for opening up more opportunities for Malaysian businessmen to venture into India, a statement issued by his office said.

Vellu was appointed special envoy by Prime Minister Najib Tun Razak to tap the former's long experience in clinching billions of ringgit worth of projects for Malaysian companies during his tenure as works minister, local media reports said.

Besides India, other South Asian countries under Vellu's portfolio are Pakistan, Sri Lanka, Bangladesh, Nepal, Bhutan and the Maldives.

During a meeting with Prime Minister Manmohan Singh here in October, Vellu had expressed hope that Malaysian businessmen would be given more opportunities by the Indian government to participate in infrastructure development projects in India. Vellu had sought greater trade and investment cooperation between Malaysia and India.

He had said that in the past 10 years, Malaysian businessmen had played a significant role in infrastructure development in India, completing projects worth about $20 billion but that the figure had dwindled of late.

Malaysian companies are already involved in infrastructure projects in India. Malaysia is known the world over for its expertise in building roads and highways.

Last month Roads and Infrastructure minister Kamal Nath, who was here to sign an MoU with Malaysia on roads, had expressed appreciation of the wide and multi-lane highways in Kuala Lumpur.

He had noted that India still needed thousands of kilometres of road, saying "the roads being made now are not for the future... it is to catch up with the past".
© Copyright 2021 PTI. All rights reserved. Republication or redistribution of PTI content, including by framing or similar means, is expressly prohibited without the prior written consent.