External Affairs Minister Salman Khurshid on Friday left on an official visit to Saudi Arabia for talks on a range of issues, including the controversial 'Nitaqat' law, energy security and counter-terrorism cooperation.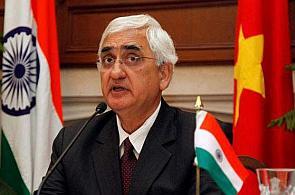 Khurshid's visit, from May 24-27, would be the first by an Indian external affairs minister in the last five years. In 2008, the then foreign minister Pranab Mukherjee had visited the GulfKingdom.

Khurshid will hold discussions with his Saudi counterpart Prince Saud Al-Faisal on bilateral, regional, and international issues and will also call on the leadership of Saudi Arabia.

The visit comes at a time when a number of Indians are leaving Saudi Arabia as a result of the Kingdom's Nitaqat programme, which is meant to regularise foreign workers. The 'Nitaqat' law makes it mandatory for local companies to hire one Saudi national for every 10 migrant workers.

There has been widespread perception that the new policy will lead to denial of job
opportunities for a large number of Indians working there.
The Saudi government was implementing the Nitaqat law to cut unemployment in the country. Over two million Indians are currently working in Saudi Arabia.
Besides, focusing on the fall out of the 'Nitaqat' law, Khurshid will also hold talks on other bilateral issues including energy security. Saudi Arabia is also India's biggest supplier of oil.
According to official figures, India imports nearly 17 per cent of its oil demand from Saudi Arabia. Counter-terrorism cooperation will also be discussed during Khurshid's visit.
Last year, the Saudi government had helped India apprehend two key terror suspects, including Zabiuddin Ansari, alias Abu Jundal, who was wanted in the 26/11 Mumbai terrorist attack.
Saudi authorities had also detained and deported a suspected founding member of the Indian Mujahideen terrorist group, Fasih Mehmood, for the 2010 bomb blast in Bangalore.
Khurshid will also carry a personal letter from Prime Minister Manmohan Singh to Saudi King Abdullah bin Abdulaziz.