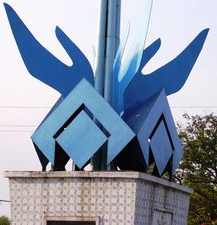 As part of its Rs 70,000-crore (Rs 700-billion) expansion programme, state-owned Steel Authority of India Limited on Monday commissioned a unit procured from Italy-based Danieli at its Rourkela Steel Plant.
Steel Authority of India Ltd chairman C S Verma on Monday inaugurated the second Ladle Furnace of Steel Melting Shop-II of Rourkela Steel Plant, the company said in a statement.
"The ladle furnace, is part of a Rs 197.66-crore (Rs 1.97-billion) scheme for simultaneous blowing in basic oxygen furnace convertors of steel melting shop-II. Total investments envisaged for different facilities as a part of RSP modernisation and expansion is Rs 11,812 crore (Rs 118.12 billion)," it said.
SAIL is undertaking an estimated Rs 70,000-crore (Rs 700-billion) capacity augmentation at all of its steel plants.
The country's largest steel producer has targeted to install an annual production capacity of about 23 million tonnes against the present 14 million tonnes.
The Rourkela steel plant produces about 2 million tonnes of steel and is targeting to double its annual production capacity in next two years.
"The 150 tonne ladle furnace, procured from Danieli India Ltd, is meant for secondary refining of steel for finer chemistry control and maintenance of ideal temperature for continuous casting," it added.
The company said that the new furnace will increase the capacity of the unit from existing 1.68 million tonnes to 1.85 million tonnes of liquid steel per annum.
". . .thereby increasing production of slabs by 0.17 million tonnes per annum," it added.