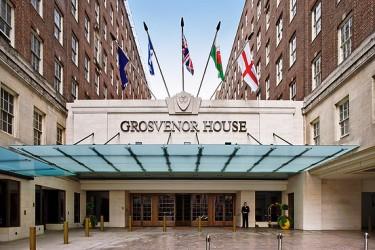 In a fresh twist to crisis-hit Sahara Group's efforts to raise funds, its iconic hotel property Grosvenor House, estimated to be worth over Rs 5,000 crore (Rs 50 billion), has been put on sale by lenders.
Grosvenor House, a landmark property on Park Lane in London, is one of the three marquee hotels owned by Sahara outside India, the other two being Plaza and Dream Downtown in New York.
Sahara Group has been trying to raise funds for months to secure release of its chief Subrata Roy, as also that of two other senior officials, from Tihar Jail in New Delhi, where they have been lodged for one year. These three hotels are have been at the centre of these fund-raising plans.
According to a report in The Telegraph daily, Grosvenor House may fetch about 500 million British pounds, more than 470 million British pounds that Sahara Grosvenor House Hospitality Ltd had paid for the hotel in 2010.
The report further said that Deloitte was appointed administrators to Sahara last night after "it defaulted on debts tied to the hotel" and they will work with realty consultancy Jones Lang LaSalle (JLL) to find a buyer.
The Telegraph quoted Mark Wynne-Smith, global CEO at JLL hotels and hospitality group, as saying that "the last hotel transaction on Park Lane took place two years ago and the market has strengthened since then."
Deloitte's Joint Administrator and Restructuring Services Partner Phil Bowers told the newspaper that "Grosvenor House Hotel is an exceptional asset, at a London address recognized around the globe."
"We are in the process of agreeing a sale strategy with JLL as sales agent and expect there to be considerable interest in acquiring this building," he added.
The three iconic hotels -- The Plaza and Dream Downtown in New York and Grosvenor House in London -- were acquired by Saharas between 2010-2012 at an estimated valuation of $1.55 billion. Market experts, however, peg their current valuation at upwards of $2.2 billion, after taking into account the appreciation in their values.
Sahara was in talks with US-based Mirach Capital for a syndicate loan arrangement linked to the three properties to replace an existing loan from Bank of China, but the deal fell apart and the two parties warned each other of legal action.
The group has been engaged in a legal battle with Indian markets regulator Sebi for a long time over repayment of investor dues totalling over Rs 20,000 crore (Rs 200 billion). Sahara, however, claims it has already repaid 95 per cent of the investors directly.
© Copyright 2023 PTI. All rights reserved. Republication or redistribution of PTI content, including by framing or similar means, is expressly prohibited without the prior written consent.