Multiple suitors came with all-cash offers but were rebuffed, they complain, for no explained reason; have asked Sebi and amicus curiae what's going on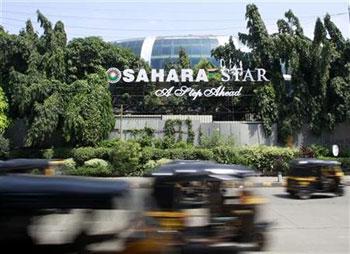 The Sahara group, mired in another controversy on its stuck repayments to depositors, appears to have spurned offers from top international investors for its luxury hotel properties in London and New York.
It turned down offers from British financial services giant Prudential and from Oakdene Finance, which claims to be Canada's largest property owner. Also, from, Texas-based World Class Capital Group LLC, from Land Securities Plc, largest commercial property firm in London. And, from New York's Madison Capital.
Instead, it had picked Miami-based Mirach Capital Group for the deal based on London's Grosvenor House and New York's Plaza and The Dream Downtown hotels.
While weeks-old Mirach relied on unknown third-party sources for funding the deals, these well-heeled firms had offered all-cash deals, funded largely by internal accrual.
The counsel of these potential investors told Business Standard that they could revive their offers, following the collapse of the Mirach deal amid allegations and counter-charges of fraud and cheating.
The amicus curiae appointed by the Supreme Court (SC) for the matter has suggested an independent agency be appointed to put through the deal process. However, a Sahara spokesperson said, "We are working on another deal and that situation will not arise."
The spokesperson did not provide details of the counter-party to this new deal, crucial for the release of the jailed group chief, Subrata Roy. He had been kept in this city's Tihar jail since March 2014, for failure to comply with an earlier SC order directing two group firms to repay Rs 24,029 crore (Rs 240.29 billion), raised illegally from 29.6 million small investors.
Documents and emails reviewed by Business Standard showed these top companies and their agents tried to contact Sahara after Roy was granted a special facility within the prison complex to meet and negotiate with potential suitors. After getting little or no response, they reached out to Securities and Exchange Board of India (Sebi) officials and amicus curiae Shekhar Naphade.
In a recent statement, Sahara said it had as many as 28 offers. M&G Real Estate, the realty fund management arm of Prudential, made an offer of £555 million (Rs 5,500 crore) for the Grosvenor House property. M&G, which manages £19.3 billion of assets across Britain and Europe, already holds a freehold interest in Grosvenor House. "It may be noted that upon expiry of the leasehold interest of Sahara India Pariwar in the hotel, the full economic interest in this property would revert to our client," representatives of Prudential said in a letter to the regulator and the amicus.
Saying their offer was fair and reasonable, and represented a material premium to the market value of the interest held by Sahara, the Prudential arm said it received a communication from the former, that the bid was "currently not being considered." In its letter in October, the firm added the fund wanted the SC to be aware of its interest and that it would be keen to take this ahead, "should the opportunity still exist".
Oakdene Finance gave a Letter of Intent for acquisition of the entire portfolio of Aamby Valley Mauritius, a Sahara arm, which included all the three assets, for $1.1 billion. Unlike Mirach Capital, which was leveraging third-party funds, Oakdene said its offer was "all cash" and entirely funded through internal sources.
Similarly, Austin, Texas-based World Class Capital had made an all-cash offer of $800 million (Rs 4,800 crore) for Sahara's holdings in Plaza and Dream DownTown.
Michael Poplett of Anglo European Solutions, which said it was acting on behalf of Land Securities Plc, noted in an email to Sebi: "It has proved impossible to extract any meaningful information from Sahara. If indeed these assets are available, perhaps you would be good enough to intervene and facilitate the release of information."
Poplett also claimed, "In addition to land securities, we have other interest in these hotels, including interest from Buena Vista and The Trump Organisation."
Another investor called Michael Kurtland of London-based Prime Investments wrote to Sebi that Sahara's approach lacked professionalism. "They do not use company emails but have a person called Lalit Chandel in which (sic) to conduct negotiations from a gmail account. They are seeking unrealistic prices to deter buyers from engaging with them…" Kurtland wrote.
A Sebi spokesperson did not respond to an email seeking comments on the latest developments in the Sahara matter.