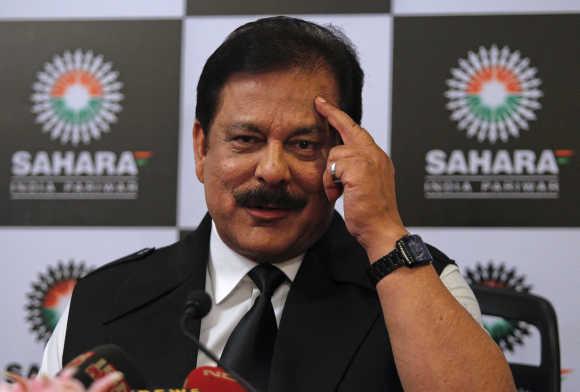 Shares of Sahara Housingfina Corporation on Monday fell 4.39 per cent on the BSE after Sahara chief Subrata Roy was arrested by the Lucknow police.
The scrip opened on a weak note on the BSE and then lost further ground. It tanked 4.39 per cent over its previous closing price to an early low of Rs 37 on the BSE.
In terms of volume, 2,550 shares of Sahara Housingfina changed hands in the morning trade on the bourse.
However, Sahara One Media & Entertainment, was trading in the positive territory and at 1124 hours the stock was trading with a gain of 4.60 per cent at Rs 64.80 on the BSE.
Roy was arrested this morning amid high drama. His son Seemanto said that his father "wilfully submitted" before Lucknow police and was cooperating with the authorities.
At a hurriedly called press conference in the national capital this morning, Seemanto Roy said that Sahara chief was very attached to his mother and her condition continues to remain fragile.
He said that Subrata Roy was hoping for a short relief from the Supreme Court, but he decided to wilfully submit before the police this morning after the "agony" he suffered from reports about him being absconding.
Earlier in the morning, there were speculations that Subrata Roy himself could be present at the press conference and these talks gained further ground after a Delhi Police team reached the venue.
In a statement, Roy claimed there was no direction against him by the Supreme Court in its orders dated August 31, 2012 and December 5, 2012, (with regard to depositing over Rs 24,000 crore with Sebi for refund to bondholders of two Sahara firms) and still he was "facing all this".