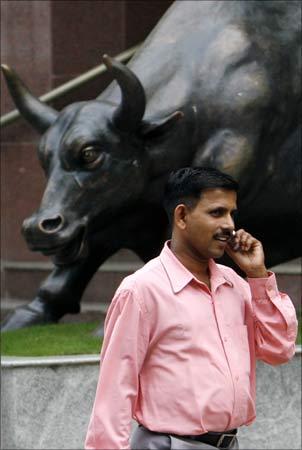 It was a case of 'buy on hopes and sell on news' as the Indian market posted only modest gains despite a landslide victory to Narendra Modi-led Bharatiya Janata Party (BJP).
In early trade, however, the Sensex rose as much as 1,460 points to 25,376 and the Nifty over 400 points to 7,558 after initial trends suggested a decisive mandate for the BJP.
But the market failed to hold on to the gains, as investors chose to take money off the table after a sharp 13 per cent rise in only a week.
The Sensex on Friday closed at a record high of 24,121.7, up 216 points, or 0.90 per cent, after a day of intense volatility and record volumes.
The broad-based Nifty index gained 79.85 points, or 1.12 per cent to 7,203. The rupee gained 0.7 per cent against the dollar, while the fear indicator India, VIX, declined a sharp 34 per cent.
Foreign brokerages including Deutsche Bank and UBS rushed to increase their index targets, while others like CLSA increased their India weightages.
"The historic verdict justifies a re-rating of the Indian equity markets. We are raising our December 2014 Sensex target to 28,000 and strongly believe that we are at the cusp of a structural bull market," said a Deutsche Bank.
"Given that Modi has won a strong mandate on a campaign focused around driving higher growth, markets will likely continue to believe that the policy outline will be positive," said UBS, which set Nifty year-end target of 8,000.
Underscoring the bullish stance, foreign investors pumped in over $600 million (Rs 3,635 crore) - one of the highest this year - into Indian stocks on Friday, taking their year to date investment tally to over $ 6 billion.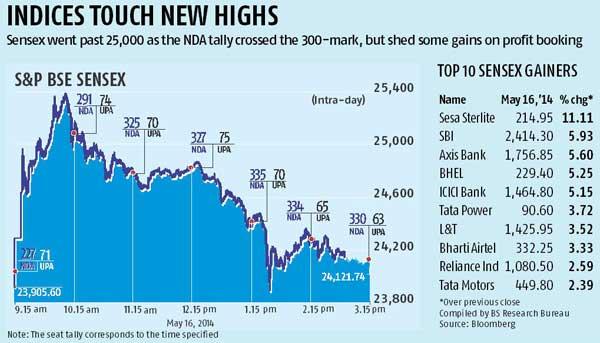 High-beta banking and realty stocks rallied the most on Friday. While, stocks in the pharma, IT and FMCG sector ended with losses and in the overall market there was one declining stock for every gaining. "Given the exceptionally strong mandate, we do not foresee a meaningful correction, though markets may consolidate near current levels," said Anup Bagchi, MD & CEO, ICICI Securities.
Brokerages advised investors to increase their equity exposure stating that it will outperform most assets classes. "This is the best time to invest in equities for medium to long term. A portfolio mix of growth and cyclical stocks would yield far bigger returns than any other asset class," said Motilal Oswal, chairman of Motilal Oswal Financial Services.
Following a 14 per cent rally in 2014, the Indian markets now trade at around 15 times its one-year forward earnings. Analysts believe the Indian markets now assign a multiple of around 18 times.