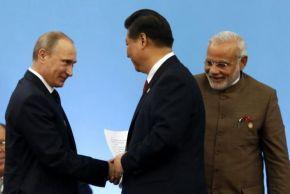 Russia is keen on exploring new avenues with India in various sectors, including Energy and space co-operation, according to a senior consular official of that country.
Sergey L Kotov, Consul General of the Russian Federation in Southern India, called on Tamil Nadu Governor K Rosaiah at the Raj Bhavan on Monday.
During their meeting, Kotov told the Governor that Russia is keen on further exploring its business in Tamil Nadu and for strengthening ties with India.
Its presence in the state includes the Kudankulam Nuclear Power Plant in Tirunelveli district, an Indo-Russian joint venture. "He (Kotov) said that the Russian Federation is interested in education exchange programmes, keen on exploring new avenues in Energy Sector, space co-operation, strengthening(of) trade and bilateral and cultural relations (with) India, especially Tamil Nadu," a Raj Bhavan statement quoted him as saying.
Pitching Tamil Nadu as a 'front ranking' state with 'industrial friendly policies,' Rosaiah told the Consul General that opportunities were wide open for starting new ventures here, it added.
Image: Russia's President Vladimir Putin (L) shakes hands with China's President Xi Jinping as India's Prime Minister Narendra Modi (R) looks on during the VI BRICS Summit in Fortaleza July 15, 2014.
Photograph: Paulo Whitaker/Reuters