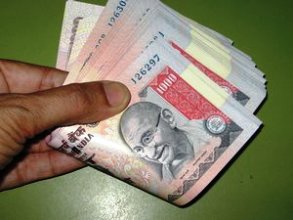 The fall in the rupee, which hit an all-time low of 65.56 against the dollar last Thursday, is because of 'unnecessary panic', said T C A Ranganathan, chairman and managing director of Export-Import Bank of India.

The main focus should be on the real economy, so that the manufacturing sector and exports get a push, he added.

Ranganathan, in an interview with Business Standard, said: "The reason for the rupee's depreciation is both fundamental and expectational.

"It is more due to unnecessary panic when the focus should shift to real economic sectors. "The rupee will appreciate back.

"The behaviour we are seeing now is merely an aberration. If we do not pay much attention, it will automatically appreciate back."

The rupee has fallen almost 20 per cent in the first four months of FY14, forcing the government to consider raising import duties on gold and non-essential luxury items.

In 2012-2013, trade deficit stood at $191.6 billion, which was a record high compared to $183.3 billion in 2011-12 and $118.7 billion in 2010-2011.

The share of exports to gross domestic product came down to 17.3 per cent in 2012-2013, compared to 17.6 per cent in the
previous financial year.
In FY13, the current account deficit (CAD) rose to a historic 4.8 per cent of GDP. On the government's recent steps to control import of certain items such as gold and non-luxury items in an effort to finance CAD, Ranganathan said it is an important step to push domestic exports as long as the duties are compliant with the World Trade Organization rules.
"We should try to encourage domestic manufacturing wherever we can. The government should seek to raise duties on whichever items. But we should also be WTO-compliant.
The US and Europe do it often to induce domestic manufacturing," he said.
A major push in manufacturing will automatically give rise to more exports of manufactured products and will also increase foreign direct investment, he added.
Last week, Finance Minister P Chidambaram suggested some measures to finance CAD such as increasing export of iron ore and reducing coal imports.
According to Ranganathan, coal must be treated as an essential intermediary. He is of the view that the government should explore ways in making coal available through domestic sources.
However, he added that exporting iron ore as one of the measures to reduce CAD will take time as there are restrictions on mining at present. Mining exports constitute eight-nine per cent of the country's total exports.