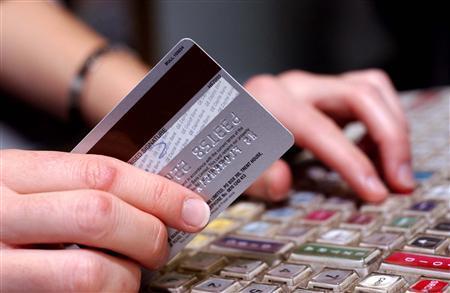 President Pranab Mukherjee on Thursday said 'RuPay'-- India's payment gateway -- will reduce dependence on cash and help in streamlining the card payment systems in the country.
Dedicating 'RuPay' card to the nation, Mukherjee said for a large country like India volume of card transactions will be significant in the years ahead.
RuPay will not only reduce dependence on cash, but will offer users diverse set of payment option within the country, he said, adding India is one of the few countries in the world to meet the card payment system needs domestically.
A variant of pre-paid RuPay card would shortly be launched by IRCTC, which will help in booking railway tickets.
RuPay is developed by National Payments Corporation of India (NPCI) and would be the seventh such payment gateway in the world.
NPCI Chairman Balachandran M said the NPCI board plans to take RuPay card overseas and is already in talks with Discover Financial Services in the US and JDC in Japan for a collaboration.
RuPay works on three channels -- ATMs, Point of Sales (POS) and online sales.
Speaking on the occasion, Financial Services Secretary G S Sandhu said RuPay would be available at a cost which is much less than the cost of international cards.
The public sector banks have already installed 25,331 RuPay cards enabled ATMS and 9,000 more ATMs would be installed in the current fiscal, Sandhu said.
The RuPay card is accepted at all ATMs (1.6 lakh plus), 95 per cent of PoS terminals (9.45 lakh plus) and most of the eCom merchants (about 10,000) in the country.
Since the transaction processing will happen domestically, it is expected to lead to lower cost of clearing and settlement. Banks Will pay fees in Indian rupees instead of foreign currency.
A variant of the card called 'Kisan Card' is now being issued by all the public sector banks in addition to the mainstream debit card which has been issued by 43 banks.
Further, a separate card for payment of milk purchases has also been launched.
The total number of banks issuing RuPay cards is now more than 250 and the card base as on April was at 20 million plus.
More than 150 cooperative banks and the regional rural banks (RRBs) have also issued RuPay ATM card.
RuPay, a new card payment scheme, is the coinage of two terms Rupee and Payment.
RuPay card offers personal accident insurance and permanent disability cover of Rs one lakh to the cardholder, subject to the card being kept in activated condition. Such a feature is not present on any international card scheme, a statement said.
© Copyright 2022 PTI. All rights reserved. Republication or redistribution of PTI content, including by framing or similar means, is expressly prohibited without the prior written consent.