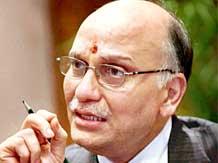 When Pawan Kumar Ruia was negotiating with the West Bengal government and the workers of Dunlop India's closed Sahaganj factory, he had one strange condition.
Apart from many favourable clauses in the tripartite agreement, he wanted the day the tyre company opened again after closure to be an auspicious day.
"The workers were insistent we should reopen the plant on September 23, but I wanted it to happen two days later, on September 25, the first day of Navaratri," says Ruia, a known devout.
That day, unlike on previous such occasions, the chairman of the Ruia Group made a ceremonious visit to the plant at Shahganj along with his son and West Bengal Education Minister Partha Chatterjee and Labour Minister Malay Ghatak to reopen the facility. The factory premises were decorated with flowers, cleaned with disinfectants and lit up.
Knowing this is his best chance yet to breathe new life into Dunlop, Ruia was pleased with the efforts. Since he bought a controlling stake in the company in 2005 from Manu Chhabria's Jumbo group, the Kolkata businessman has tried his hand at making the debt-ridden company work.

But he has been stymied by labour problems, huge debts, lack of financing and suspicions that he was interested in the company's real estate assets rather than in running it.
According to the tripartite agreement signed between the Dunlop management, the state labour department and workers, no production will take place at the moment; only work to refurbish the complex will be undertaken.

A team of about 60 people will be working on this. Once the plant is ready for production, 550 workers will join. The agreement says that they will be paid their salaries then onward.
The plan thus envisages making the company operational in phases. Dunlop has six months to start operations in the IP division that manufactures a range of rubber products.

This would be followed by the restarting of the OTR division, which makes off-the-road tyres, in another few months.

Therefore, although the plant has been reopened, workers will be getting wages only when production commences in their respective divisions.

However, the workers will now be paid Rs 5,000 every month to partly cover their past dues. The dues of 32 workers who have died since the Sahaganj plant shut down on October 8, 2011, will be cleared over four installments.
Pawan Kumar Ruia Pawan Kumar Ruia Reopening the factory in a staggered manner was something that had been proposed by Ruia as far back as in 2011, but the idea had been opposed by all workers' unions as well as the government. Asked how he had managed to get everyone on board this time, Ruia says the company had got rid of the "trouble creators" among the workers.

"We closed Dunlop because of some people whose employment had been terminated, who had been suspended and those against whom the company had filed criminal cases," he says. "Once these people decided to resign, we thought of reopening the factory. There were 23 such people. Of them, five have already retired and 18 have left after availing of retirement benefits."
He also says that when matters were being wound up in court, some among those 23 people inflated their outstanding dues to Rs 77 crore.

"It was just to create problems for us," says Ruia. "Now, we have got documents signed by the government in which the workers have agreed that our total liability is about Rs 12 crore. So I got the biggest advantage out of the deal."
A favourable tide
People in the know, however, say that the bigger positive for Ruia is that he has finally got the state government on his side. In an interview with Business Standard last year, Ruia had said he was a victim of the government's wrong perceptions. That seems a long way off now.

The Ruia Group chairman was perceived to be close to the earlier Left regime, and it is common knowledge that his problems were taken up by none less than then chief minister Buddhadeb Bhattacharjee and his industry minister, Nirupam Sen.
"Heads have rolled in both the industry and labour ministries, the two departments handling Dunlop," points out a senior bureaucrat.

"With Amit Mitra as industry minister and Moloy Ghatak as labour minister replacing Partha Chatterjee and Purnendu Bose, respectively, Ruia has managed to have his way in the tripartite agreement."
As they do for all practical businessmen, Ruia's networking across the political spectrum has helped. "I have personally spoken to Mitra several times," he says. "I am happy that I have been able to communicate my views to him."
Things would not have worked out better for Ruia. Dunlop India, which is contesting a 2013 Calcutta High Court order to wind up in the Supreme Court, has also been granted 'relief undertaking' status by the West Bengal government. Such a status prevents creditors of a company from seeking liquidation of its assets for recovery of their dues.
Until 2010, Dunlop enjoyed protection from its unsecured creditors under the West Bengal Relief Undertakings (special provisions) Act. But the status was eventually withdrawn by the Left Front and the Trinamool Congress government that came in also did not renew it. Now, apart from the favourable tripartite agreement, Ruia has got official protection from creditors as well.
On January 31, 2013, Justice Sanjib Banerjee of the Calcutta High Court had ordered Dunlop to wind up. It had directed the official liquidator to take immediate possession of the company's assets and books of records, following an application from a Kerala-based partnership firm EV Mathai and Sons and other creditors of the company. However, the Supreme Court stayed the order and it is still under review in the apex court. The matter is likely to come up for hearing on October 14.
"Initially, the total claim of the creditors was around Rs 60 crore. We have paid these dues. There are only six parties left whose total claim is about Rs 12 crore. But we are contesting their claim and have not paid them," says Ruia.
The challenge now is to get the first tyre factory of the country to begin making tyres again. And that is not going to be an easy task, given the poor condition of the factory. "There are hardly any machinery left," informs a worker. "The management will have to make new investments. We are left with no choice but to hope that things will fall into place finally." Ruia has pegged new investments required to get the plant running at Rs 10-15 crore.
Labour relations will also remain a challenge. Labour Minister Ghatak has, for now, got the unions on board, but there is scepticism all around. "If you ask me, I have doubts about Ruia's intention to run the factory," says Santashree Chatterjee, leader of the CITU-led Dunlop workers'union. The scepticism is rooted in the fact that Sahaganj has never seen full scale operations since Ruia took charge in 2005. The same is true for Dunlop's Ambattur plant in Tamil Nadu, which has been closed.
But Ruia has many things in his favour at this moment. As a senior minister in Mamata Banerjee's cabinet who has dealt with the Dunlop owner earlier says, "If he cannot deliver now, he will never be able to."
Troubled Journey: Dunlop under Pawan Ruia
Nov '05: Pawan Kumar Ruia acquires Dunlop from Manohar Rajaram Chhabria's Jumbo group
Aug '06: New management reopens Ambattur plant
Oct '06: Sahaganj plant reopens
Jul '07: Ruia takes Dunlop out of the purview of the Board for Industrial and Financial Reconstruction by revaluing its fixed assets
Jan '10: Dunlop India re-lists shares on BSE
Apr '11: Pawan Ruia steps down as Dunlop India chairman on January 31, 2011
Aug '11: Pawan Ruia quits Dunlop India board
Oct '11: Dunlop issues stop-work notice at Sahaganj plant
Feb '12: Work stops at Ambattur plant (near Chennai)
Mar '12: Calcutta High Court orders appointment of a provisional liquidator for Dunlop to protect company assets
Jan '13: Calcutta High Court orders winding up of Dunlop India
Jun '13: Supreme Court stays winding up of Dunlop India
Sep '14: Sahaganj plant reopens