This week, as the I-T department scanned the deposits, reality hit them: Only a minuscule percentage of the Jan Dhan accounts had been used for money laundering.
Subhomoy Bhattacharjee/Business Standard reports.
Illustration: Uttam Ghosh/Rediff.com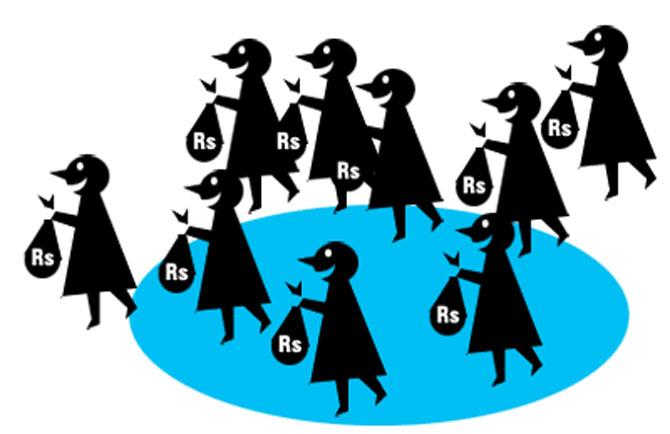 Contrary to the general perception of a countrywide racket in loading up of the no-frill Jan Dhan bank accounts, there are only 40 such accounts where deposits have crossed Rs 10 lakh.
This surprising bit of statistic confronted government officials this week.
They have discovered there is a small cluster of accounts through which money laundering has been done.
This has caused the most sensational surge in bank deposits after demonetisation was announced on November 8.
"You think it will be difficult to monitor these accounts from now?" asked a government officer.
There are 258.2 million Jan Dhan across State-owned banks, regional rural banks and private banks.
These were opened from August 2014, on a mission mode, to provide banking services to the poorest in the country.
Unlike standard bank accounts, these can have zero balance.
According to the finance ministry, about 75% of Jan Dhan accounts had zero balance not so long ago.
The number had slumped to 23.11% by December 7.
In other words, more people who have these bank accounts have started depositing money in these.
The account holders do not get the full menu of banking services, but are assured of a savings account where they can park money safely, and directly receive benefits (subsidy, pension, scholarship) from the government.
These accounts are known to have been flooded with deposits in just three weeks since November 8.
The flow has threatened to rip apart the social safety net crafted for the poor as the money was obviously not theirs and had been parked by desperate people saddled with cash they knew they would not be able to account for to the tax sleuths.
It was initially suspected that millions of poor Indians had been the victim of this flow, with the deposits possibly made without their knowledge into their accounts.
Under the country's banking laws, they too had become culpable, knowingly or unknowingly.
But this week, as the income tax department and other officials scanned the deposits, reality hit them: Only a minuscule percentage of the Jan Dhan accounts had been used for money laundering.
The biggest deposits were made in just 40 accounts. They are a part of the 1,950 Jan Dhan accounts, where more than Rs 3 lakh has been deposited in the three weeks since November 8.
Together, in these accounts, the total sum deposited is close to Rs 39,000 crore (Rs 390 billion).
Those who needed to put the money in had used only these few accounts to park their cash in denominations of Rs 1,000 and Rs 500.
Unlike the picture that was painted of a countrywide rush where thousands of poor and gullible people were made to part with their account numbers to the corrupt rich, it is only at few places where the clandestine operations were conducted.
The nature of operations also makes sense. Those who needed to park their black money needed to do so fast after the sudden announcement on November 8 and could not obviously go around figuring out who will be willing to take on the massive deposits in their bank accounts.
The officials say the launderers checked out that the accounts they were going to use for the purpose were dormant.
And the scale of deposits shows that bank officials at these branches connived with the depositors to park the black money, otherwise the tax department would have got alerted.
According to a finance ministry release issued on December 7, in the first week of demonetisation -- November 8 to 15 -- Rs 20,206 crore (Rs 202.06 billion) was deposited in the Jan Dhan accounts.
In the second week, between November 16 and 22, the flow was Rs 11,347 crore (Rs 113.47 billion).
And in the third week, between November 23 and 30, it fell to Rs 4,867 crore. (Rs 486.7 billion).
On December 1 and 2, the inflow into Jan Dhan accounts reduced further to Rs 410 crores (Rs 4.1 billion) and Rs 389 crore (Rs 3.89 billion), respectively.
In other words, the clandestine flow using this route has dried up and deposits are back to normal.
At the end of this week, the total deposit in the Jan Dhan accounts has reached Rs 74,609.5 crore (Rs 746.095 billion) including the rogue deposits.
The suspect accounts are spread across 15 districts of the country in 5 states. For operational reasons, the income tax department was not willing to share further details.
Again, the tight spread of bank branches shows that a considerable degree of 'investigation' was organised by the launderers to park their booty.
They naturally understood that it will be difficult to recover their money if they distribute it to a large number of accounts, whose owners they would have to cajole to disgorge the sum later.
Instead, they possibly expected that once the spotlight on black money was shut off, they would be able to clean out their cash from these accounts.
What they did not anticipate was the scale of their operations. "Had it been a few thousand crores, it may have avoided detection, but the massive inflow gave the game away," said an official.
'The income tax department has identified the clusters and bank branches where the inflow of Jan Dhan deposits have been more than normal,' reads the finance ministry release.
As the release notes, once the accounts were identified, it has become easy to keep them under observation.
The reason why the launderers chose the Jan Dhan accounts was the possibility of lower scrutiny.
The banks do not conduct KYC on Jan Dhan customers for the first year.
Those with black money felt this escape route would allow them to deposit cash easily which they would withdraw later.
This has become impossible. As another officer points out, the Reserve Bank of India has put a monthly cap of Rs 10,000 on cash withdrawals from all Jan Dhan accounts with a one-time limit of Rs 4,000.
This means the only option left to withdraw money in bulk from a Jan Dhan bank account is to go in for an electronic transfer of funds — this is permissible without any limit.
With the trackers already switched on for these accounts, the tax officials are rather satisfied that any transfer to another account will open up fresh avenues for them to track black money.
The money is consequently almost impossible to switch across accounts.
Nobody out there buys the thesis that these sums could also have a plebeian reason to appear in these accounts.
The government is also comfortable that the monitoring of these accounts will not inconvenience any of the crores of poor people who have invested their money in their Jan Dhan.
And if, per chance, most of the money in the suspect accounts sits unclaimed, the government can commandeer the sum to funds like the Investor Protection and Depositor Funds. There are other options, too.