The rejuvenation mission will be implemented in 500 cities and towns each with a population of 100,000 and above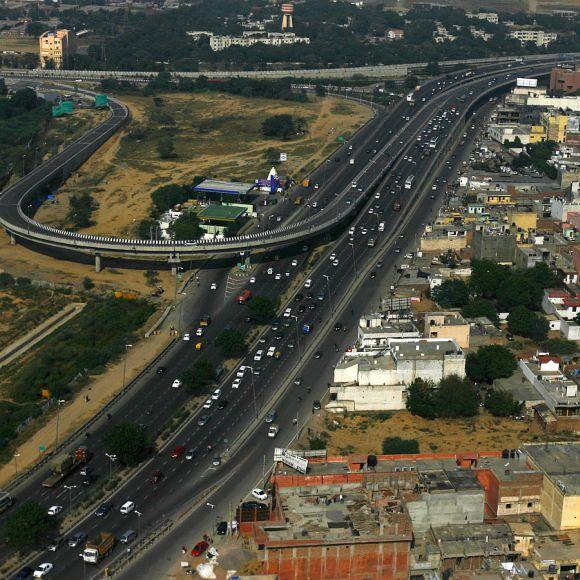 The Union Cabinet on Wednesday cleared a project to develop 100 smart cities and rejuvenate another 500 in the country, allocating close to Rs 1 lakh crore (Rs 1 trillion) for a period of five years.
While Rs 48,000 crore (Rs 480 billion) has been allowed for 100 smart cities, now renamed Smart Cities Mission, another Rs 50,000 crore (Rs 500 billion) has been sanctioned for Atal Mission for Rejuvenation and Urban Transformation (Amrut) of 500 cities.
States along with local bodies and corporate entities have to spend the most in the projects, experts said.
The Amrut project could lead to cities becoming smart subsequently.

Each city would get Rs 100 crore (Rs 1 billion) every year from the Centre for five years.
The remaining money has to come from the states, urban bodies and the consortium that they form with corporate entities.
Also, 10 per cent of budget allocation will be given to states/Union Territories as incentive based on achievement of reforms during the previous year. A reform matrix with timelines would be circulated to states later.
The project will be implemented by special purpose vehicles to be created for each city. State governments will need to ensure steady stream of resources for the SPVs.

Names of the smart cities will be finalised through a competition, called Smart City Challenge.
Although this has not been specified by the government, only about 20 cities are likely to be shortlisted in the first phase.
At the time of formally announcing the smart cities project, the Union Budget had allocated Rs 7,016 crore (Rs 70.16 billion) for it.
However, in the February 2015 Budget, the project was allotted only Rs 143 crore (Rs 1.43 billion).
The Budget documents showed only Rs 924 crore (Rs 9.24 billion) of the Rs 7,016 crore (Rs 70.16 billion) had been spent.

After the Cabinet approval, a government statement said it was a determined bid to recast the urban landscape of the country and drive economic growth.
The Smart City Challenge is intended to link financing with the ability of the cities to perform to achieve the mission objectives, according to the statement.
Each state will shortlist a certain number of smart city aspirants and prepare proposals for further evaluation to get central support.
Pratap Padode, founder and director of the Smart Cities Council, said the Cabinet's green signal to the project was one big move that could catapult India into a smart nation by invigorating urban renewal for its 30 per cent population and create engines of growth that would fuel the survival of the remaining 70 per cent spread across over 500,000 hamlets and villages.

Arindam Guha, senior director, Deloitte India, said while the outlay of Rs 100 crore (Rs 1 billion) a city for the smart city programme might appear to be on the lower side, this would hopefully be supplemented by state governments, urban local bodies and private sector.

"However, for private sector players to invest in this space, most cities would have to take a relook at their tariff structure for urban services so that they not only recover the cost of service delivery (which only a few cities in the country currently do) but are also able to service these investments.''

Most of the smart cities will be brownfield (old) ventures and will be implemented through an 'area-based' approach including retrofitting and redevelopment.
There will be greenfield (new) projects, too, that will mean development of new cities.
Focus will be on core infrastructure services like adequate and clean water supply, sanitation and solid waste management, efficient urban mobility and public transport, affordable housing for the poor, power supply, robust information technology connectivity, governance, safety and security of citizens, health and education, and sustainable urban environment.

As for the rejuvenation mission, it will be implemented in 500 cities and towns each with a population of 100,000 and above, some cities situated on stems of main rivers, a few capital cities and important cities located in hilly areas, islands and tourist areas. For this, states will get the flexibility of designing schemes based on the needs of identified cities.

Central assistance to Amrut will be 50 per cent of project cost for cities and towns with a population of up to a million and one-third of the project cost for those with a population of above a million.
Central assistance will be released in three instalments in the ratio of 20:40:40 based on achievements. Amrut seeks to lay a foundation to enable cities and towns to eventually grow into smart cities.

SMART INDIA
Rs 48,000 cr (Rs 480 billion) for 100 cities under Smart Cities Mission
Rs 50,000 cr (Rs 500 billion) for 500 cities under Atal Mission for Rejuvenation and Urban Transformation
Rs 100 cr (Rs 1 billion) for each city every year from the Centre for five years
10% of Budget allocation will be given to states/Union Territories as incentive based on achievement of reforms during the previous year
20 cities likely to be shortlisted in the first phase
Image: A picture taken from the window of passenger airplane shows traffic on a road in New Delhi. Photograph: Fayaz Kabli/Reuters