Anglo-Dutch oil giant Royal Dutch Shell's India unit plans to invest $1 billion in building a floating liquid gas (LNG) terminal off Andhra coast by 2014 as it bets big on gas retailing in the energy deficit country.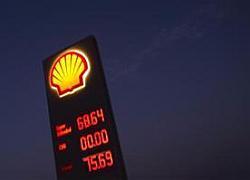 Shell, which currently has a 3.6 million tonnes liquefied natural gas (LNG) import facility at Hazira in Gujarat, is building the floating LNG terminal off Kakinada in joint venture with Anil Ambani Group firm Reliance Power.

"By end of the quarter, we will be able to import 5 million tonnes at Hazira," Shell India head Yasmine Hilton said.

The plan is to double capacity to 10 million tonnes in 3-4 years while the Kakinada terminal can also be doubled in near future.

Shell sees huge potential for gas imports as demand grows in the energy deficit country.

The company is seeing "material" interest in the upstream oil and gas exploration and production and continues to evaluate opportunities, she said adding Shell would have a have material presence in the sector in next five years.

For downstream fuel retailing, it pitched for a level playing field before it can expand its network of 70-odd petrol station.

"We must have a level playing field - market pricing and no subsidies. Subsidies are non competitive. As MNC, I don't get any subsidies so it is non-level playing field," she said adding level playing field will sharpen
performance and give consumers a choice.
"Competition is not a dirty word," she said. "Let's have a robust investor friendly framework."
Shell-Reliance Power's Kakinada port is the same for which state-owned gas utility GAIL India had roped in French utility GDF Suez and signed pact with Andhra Pradesh government for a 3.5 million tonnes floating LNG receipt facility.
Kakinada is also the landfall point of billionaire Mukesh Ambani-led Reliance Industries' flagging KG-D6 gas fields in the Bay of Bengal, and a near 1,400-km line carries the fuel from there carries the fuel to consumption centres in the west.
The continuing fall in KG-D6 output has triggered a rush for setting up of LNG import facilities to meet the growing energy demands in the country.
While GAIL is doing a detailed feasibility report for the floating import facility, Petronet LNG Ltd - the nation's largest importer of gas in its liquid form (LNG) in ships, too is building a 5 million tonne facility at Gangavaram in Andhra Pradesh by 2016.
In intervening period to the construction of the Rs 4,000 crore (Rs 40 billion) Gangavaram terminal, Petronet plans to hire a floating LNG terminal to begin imports of fuel immediately.
State refiner Indian Oil Corp (IOC) also is doing a front-end engineering and design (FEED) study for a terminal at Ennore in Tamil Nadu.
© Copyright 2021 PTI. All rights reserved. Republication or redistribution of PTI content, including by framing or similar means, is expressly prohibited without the prior written consent.