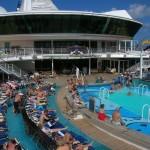 Luxury cruise company Royal Caribbean Cruises is trying to attract Indian passengers to board its ships to be deployed in Singapore.
Royal Caribbean International has announced its plans for year-round deployment of its two mega ships from Singapore. Delhi based Tirun Travel Marketing is the exclusive India representative of the cruise line.
According to Tarun Chadha, chief operating officer, Tirun Travel Marketing, cruise holiday to the Americas or Europe with flights to departure ports, pre and post hotel accommodation, visa and insurance and the cruise costs around $6,000, while a cruise out of Singapore costs $2,200 per couple.
"There are 15 million Indians who travelled abroad annually as tourists. Around one lakh Indians go on cruise vessels. Indian cruise-goers can now experience affordable and world class cruise vacations closer home. Cruise tourism is gaining momentum and this segment is annually growing at 8 per cent. People from North and West India have contributed to the maximum number of passengers from India going on cruise. This year, we are deploying Asia's largest ship Mariner of the Seas - from November 2014 to March 2015," said Chadha.
He added, "There are tremendous business opportunities for cruise tourism. Also, there are few misconceptions about cruise tourism. We are trying to create awareness and also our effort is to bring down the costs. The tourism has not gown in India over the years because of high costs and lack of infrastructure. We have a coast line of 7,000 km which can be developed as base for cruise ships. Also, our ports are mostly being used for freight forwarding and not for tourism."
Royal Caribbean Cruise's The Legend of the Seas will be positioned in Singapore from June 2015 followed by the Mariner of the Seas later in the year.
Depending on the cruise, the ships will cover major destinations in south-east Asia such as Phuket, Penang, Kuala Lumpur and Phu My in Vietnam.