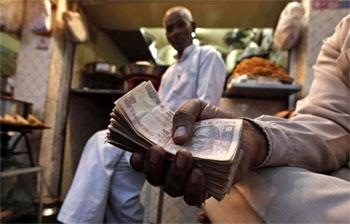 Even as the Reserve Bank maintained status quo on policy rates today, there is a room for reduction in repo rate in coming quarters, say analysts.
Experts said they expect RBI to reduce policy rates by 0.50 to 0.75 percentage points this fiscal considering strong deflationary forces at global level and efforts by the government to control food inflation.
RBI governor Raghuram Rajan today kept policy rate unchanged awaiting clarity on impact of unseasonal rains on food inflation even as he wanted banks to pass on benefits of previous two rate cuts.
"RBI has maintained status quo on policy rates. In my view CPI is likely to undershoot, considering the strong deflationary forces on the global front as well as the government's efforts on domestic front to discourage food inflation and maintain fiscal discipline.
"Hence, in my view there is room for further decline in interest rates in coming quarters," Angel Broking chairman & managing director Dinesh Thakkar said.
The repo rate, at which RBI lends to the banking system, will continue to be at 7.5 per cent and the cash reserve ratio, which is the amount of deposits parked with the central bank, will remain at 4 per cent.
"After two front-loaded rate actions, the RBI maintained the policy rate at 7.5 per cent, which is in-line with our expectations. While the RBI maintained status quo this time around, we expect the RBI to reduce rates by another 50-75 bps in FY'16," said Hitesh Agrawal, Head Research, Reliance Securities.
"Transmission of policy rates to lending rates has not taken place so far despite weak credit off take and front loading of two rate cuts. With little transmission, and the possibility that incoming data will provide more clarity on the balance of risks on inflation, the Reserve Bank will maintain status quo," Rajan said in the first bi-monthly policy review for 2015-16.
Rajan, who has surprised with two rate cuts of 0.25 per cent each outside the scheduled review meetings this year, however, affirmed his commitment to the accommodative stance, but added that policy moves will be shaped by incoming data and added that transmission of rate cuts by banks will be his top-most priority.
The benchmark BSE Sensex pared its early gains to fell by over 100 points as interest rate-sensitive stocks slipped soon after the Reserve Bank kept key repo rates unchanged.
"Well balanced assessment of the overall economy by the RBI. Rajan is targeting real life rate easing for the borrowers. Once banks oblige then the odds for more easing by the RBI improves," said Madhusudan Kela, chief investment strategist, Reliance Capital.