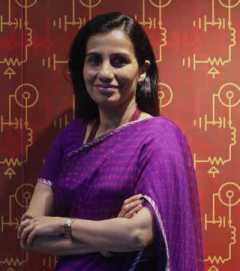 A day ahead of RBI's annual monetary policy announcement, ICICI Bank CEO and Managing Director Chanda Kochhar said on Thursday there is headroom for RBI to cut interest rates as inflation is trending downward.

"The moderation in inflation can actually have further positive impact on giving central bank some more headroom is terms of policy rates," she said addressing a session at ADB annual meet in Greater Noida.

The overall inflation in March fell to 5.96 per cent, much below Reserve Bank of India estimate.

"Inflation is moderating. The overall inflation has come down below 6 per cent for March 2013 and core inflation has come down to 3.4 per cent. Gradually we have seen some amount of moderation in inflation," she said.

The RBI is widely expected to cut policy rate and cash reserve ratio by at least 0.25 per cent each to prop up growth in its policy on Friday.

The economic growth is estimated to have fallen to a decade low of 5 per cent in 2012-13. In the current fiscal, the growth is likely to be between 6.1-6.7 per cent as per government estimates.

Referring to short term challenges for Indian economy, Kochhar said: "Growth has come down.

"Fiscal deficit has been high, Current account deficit has increased. . . The twin deficit has restricted policymakers to take action."

The current account deficit touched an all time high of 6.7 per cent in December quarter.

The fiscal deficit in 2012-13 is estimated to be around 5.2 per cent.

"In order to revive economy there is a need to revive investment pipeline. In last 12-24 months a lot of projects have been set up, but most of them have not generated cash flow because of some impediments or the other," she said.

During the medium term, India needs to focus on maintaining attractiveness for capital inflows, she said adding there is also need to rebalance agriculture output.

"There is also need to make investment in infrastructure and ensuring cash flow and efficiency of infrastructure projects," she added.

Kochhar said capital inflows into the country continues to be large, but there has been volatility.

During 2009-10, India received capital inflows of $24 billion, which improved to $50 billion in last fiscal.
Image: Chanda Kochhar | Photograph: Vivek Prakash/Reuters