Rohit Nandan, joint secretary, civil aviation ministry, was appointed the chairman and managing director of Air India on Friday for a three-year period.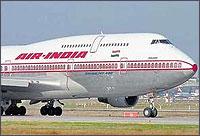 Arvind Jadhav, a senior IAS officer and the current CMD of Air India, was sent back to parent Karnataka cadre.
Fifty-five year old Jadhav has been facing criticism for the grave financial crisis facing the national carrier.
A 1978-batch IAS officer, Jadhav took over as CMD of the National Aviation Corporation of India Limited (NACIL) on May 4, 2009.
He is empanelled as a Secretary to the government.
Jadhav has been under attack from sections of the employees like pilots and political parties.
His tenure so far has experienced three major strikes by pilots and other employees.
The focus of these attacks has been the massive losses and debt burden of the national carrier and delayed payment of staff salaries and allowances.