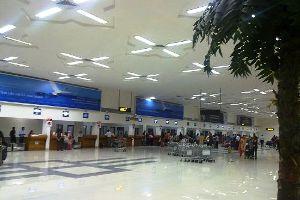 Cochin International Airport Limited, which came up under the public private partner model, has ushered in a new initiative for maintaining airport safety by employing robotics technology.

CIAL is all set to implement a high-end robotic security system with Canadian-built robotic equipment at an estimated Rs 12 crore (Rs 120 million).

It is the first airport in south India to have a robotics-based security system.

This will be commissioned in the first week of September, said VJ Kurian, managing director of CIAL.

Kurian said the robotic safety system is part of CIAL's commitment to the passengers to ensure flawless safety and security.

Apart from robots, a threat containment vessel, capable of handling suspected luggage identified by the robots and capable of containing a blast of minimum eight kilogramme of TNT of equivalent quantity of explosive also features the high-end security system.

This container is reusable in the sense that it withstands repeated detonations.

If the suspected luggage is below the prescribed limits, the smaller version of TCV (suspected luggage containment vessel) would be deployed.

The family of safety robots developed by Pedsco (Canada) Ltd, threat containment vessel and sophisticated luggage containment vehicle (both developed by Nabco, USA), have already reached the airport and are now in calibration phase.

Remote mobile Investigator (RMI)-9WT is the front runner in the robot family.

It is in use in the West by the departments of police and fire, military, nuclear and industrial institutions.

It is a light weight battery-operated multi-purpose vehicle that has proven to be ideal for remote handling of improvised explosive devices, hazardous chemicals, radioactive materials, fire fighting, hostage situations, hijacks and other hazardous situations.
Image: Cochin International Airport