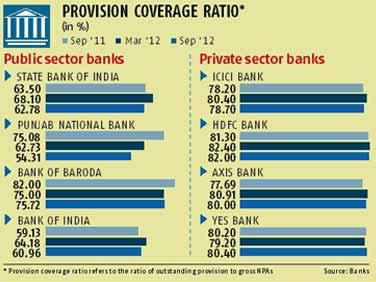 Amid a rise in non-performing assets, most public sector banks have seen a substantial drop in their provision coverage ratio in the year since the reserve Bank of India (RBI) withdrew the 70 per cent provision coverage ratio norm.
But private sector banks, where the pressure on asset quality was far less, maintained a healthy provision for bad assets.
Provision coverage ratio refers to the ratio of outstanding provision to gross NPAs (non-performing assets) and higher provisioning depletes the bank's bottom line.

During the July-September quarter, some of the public sector banks which sacrificed provisioning were able to report better profit growth vis-a-vis others.
"With a few exceptions, a majority of government banks have reported a sequential decline in their provision coverage ratio, while private sector banks have fared better. This has been one of the areas of concern regarding public sector banks, in our view," said Saday Sinha, vice-president, equity research, Kotak Securities.
Most public sector banks (PSBs) reported a provision coverage ratio of less than 70 per cent during the second quarter this year. Earlier, the RBI had mandated banks have a minimum 70 per cent but it withdrew the norm in September 2011 as asset quality pressure on banks started taking a toll of their profitability.
According to bankers, pressure from bad assets is far more acute for PSBs, which has resulted in lower overall provisioning.

According to RBI data, gross NPAs for public sector banks increased to 3.3 per cent as of end March 2012, from 2.4 per cent a year ago. For private lenders, the ratio actually declined to 2.1 per cent from 2.5 per cent during the same period.
State Bank of India, the country's largest lender, reported a lower provision coverage ratio for the second straight quarter. It stood at 62.78 per cent as compared to 68.10 per cent as of March end.

The bank had reported 30 per cent profit growth in the second quarter. According to RBI data, the ratio for PSBs stood at 47.6 per cent as of end March 2012, as compared to 49 per cent a year ago. For private sector lenders, it was 74.9 per cent, as compared to 74 per cent a year ago.
Private banks are consistently maintaining a ratio of above 70 per cent, though there is no regulatory compulsion. For instance, the largest private lender ICICI Bank had a ratio of 78.7 per cent at the end of the September quarter while the second largest, HDFC Bank, had 82 per cent.
Both banks have reported healthy profit growth, with ICICI Bank's net profit rising 30 per cent to Rs 1,956 crore while HDFC Bank's net rising 30 per cent to Rs 1,560 crore in the period.
Dhananjay Sinha of Emkay Global Financial Services said, "The asset quality and yield on assets are far better for private banks. Also, their better capital adequacy ratio enables them to provide more towards bad assets while maintaining net profit growth."