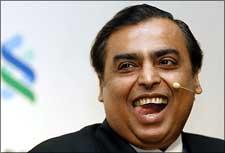 Reliance Industries and Network 18 group on Tuesday joined hands for a multi-layered deal, under which the Mukesh Ambani-led corporate giant would sell a part of its interest in Eenadu TV channels and would also fund promoters of the media group.

RIL did not specify the exact financial details of various transactions. Network 18 group company TV18 in a separate statement said its board has approved an outlay of up to Rs 2,100 crore (Rs 21 billion) for the proposed acquisition of ETV assets.

At the same time, RIL group through an independent trust would provide funding to promoters of Raghav Bahl-led Network 18 group for acquiring shares in their two companies -- Network 18 and TV18 -- through their respective rights issues.

In all, Network 18 and TV18 would raise about Rs 4,000 crore (Rs 40 billion) including Rs 1,700 crore (Rs 17 billion) contribution of the promoters.
As per the deal, RIL, which is setting up a pan-India broadband network, would also get access to content and distribution assets of the electronic media group.
RIL said its group companies, through investments of about Rs 2,600 crore (Rs 26 billion), now hold interest in various ETV channels, being operated and managed by Eenadu group.
This include 100 per cent stake in regional news channels (ETV Uttar Pradesh, ETV Madhya Pradesh, ETV Bihar ETV Urdu), 100 per cent stake in entertainment channels (ETV Marathi, ETV Kannada, ETV Bangla, ETV Gujarati and ETV Oria), and 49 per cent in two Telugu channels (ETV Telugu and ETV Telugu News).
RIL said that it would be selling "a part of the interest owned by it in the ETV Channels" to TV18 Broadcast Ltd. TV18 said it is acquiring 100 per cent stake in regional news channels, 50 per cent in non-Telugu entertainment channels and 24.5 per cent interest in two Telugu channels.
TV18 would get the board and management control of the ETV news channels and ETV non-Telugu entertainment channels.
RIL funding would not alter promoter, management or editorial control of Network 18 entities, the two groups said.
The deal also involves RIL's broadband subsidiary Infotel entering into a memorandum of understanding with TV18 and Network18 Media and Investments (Network18) for preferential access to all their content for distribution through the 4G Broadband Network being set up by it.
As per the MoU, Infotel would get preferential access to the content of all the media and web properties of Network 18 and its associates, and programming and digital content of all the broadcasting channels of TV18 and its associates on a first right basis as a most preferred customer.
Infotel is setting up a pan-India world class 4th Generation Broadband Network and aims to take a leadership position in content distribution through broadband technology through a host of devices.
Digital content from entertainment, news, sports, music, weather, education and other genres will be a key driver to increase consumption of broadband, RIL said.
The Network 18 group of channels include news broadcasters like CNBC-TV18, CNBC Awaaz, CNN-IBN, IBN7 and IBN Lokmat, while TV18 Broadcast operates some other channels such as Colors, MTV, VH1 and Nick in joint venture with Viacom.
Separately, Network18 and TV18 today announced that they are raising funds (totalling about Rs 4,000 crore, including about Rs 1,700 crore contribution from promoters) for the acquisition of ETV Channels through rights issues.
Independent Media Trust, set up for the benefit of Reliance Industries (RIL), will fund promoters of Network 18 and TV18 to enable them to subscribe to the proposed rights issues announced by both the companies.
"The promoter companies of Network18 and TV18 and the Trust have entered into a Term Sheet under which the Trust would be subscribing to the optionally convertible debentures to be issued by the promoter companies," RIL said.
RIL said the deal would create value and be accretive to its shareholders.
The shares of RIL were trading 2.3 per cent up at the BSE, while those of TV18 and Network 18 were up 20 per cent each.
Raghav Bahl and his team would continue to have full operational and management control of both the companies, even after funding by RIL group and the current promoters would continue to retain control over Network 18 and TV18.
"The investments in these media properties are being made by RIL through an independent trust which will have eminent individuals as trustees, thus preserving the management, operational and editorial independence of these media companies," RIL said.
The company said that the deal is one of many such partnership initiatives being undertaken by Infotel for its aim to offer high-quality Live TV broadband services.
Network 18 and TV18 would become debt-free companies post the deal, they said in a joint statement.
Network 18 said it would raise up to Rs 2,700 crore (Rs 27 billion) through rights issue of its equity shares at a price not exceeding Rs 60 per share.
On the other hand, TV18 board also approved raising up to Rs 2,700 crore through its own rights issue of equity shares at a maximum price of Rs 40 each.
TV18 would use the rights issue proceeds to repay its debt, fund the acquisition of ETV channels and finance working capital needs. Network 18 would use the proceeds for repaying its debt and subscribe to rights issue of TV18.
Raghav Bahl, founder and promoter, would continue to retain management control and 51 per  cent stake in Network 18 and 51 per cent control over TV18 through Network 18.