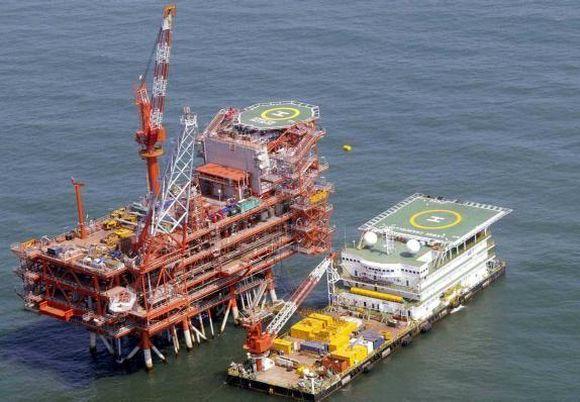 The Centre's move to increase natural gas prices to $5.61 per million British thermal units (mBtu) from November 1 would be a negative for Reliance Industries Ltd (RIL), analysts said, as RIL would continue to get the current rate of $4.2 till it made good the shortfall in output from its KG-D6 block.
"The development from RIL's new fields - D-34 and R series - will not be viable at the current price. We had estimated a $6-7 increase in gas prices, which has not come about. At this price, investment into new fields for exploration and production will be muted," said Sanjeev Prasad of Kotak Securities.
Last year, RIL had secured the government's approval to invest $3.18 billion for production at D-34. D-34, or the R-cluster, comprises four discoveries - D-29, 30, 31 and 34.
Of these, D-34 has been declared commercially viable so far. JPMorgan's Asia Pacific Equity Research analysts Samuel Lee and Neil Gupte, in a report on RIL this September, had said they expected gas prices to rise in a staggered fashion, rather than a large one-time increase.
"Taking various factors into consideration, we now assume prices are raised to $6.5 per mBtu later this month, rising $1 an mBtu every year thereafter, before stabilising at $8.5 a mBtu," they had said.
In the past, RIL and its partners, BP Plc and Niko Resources, have reiterated fresh investment in new fields will not be viable at a price lower than $8.4 per mBtu.
RIL and its partners planned to produce about 13 million standard cubic metres a day (mscmd) of gas for 13 years from the D-34 discovery in the KG-D6 block, by 2017-18.
Till the time of going to print, RIL didn't respond to the development.
Following its September quarter results, RIL told investors it had completed front-end engineering design, as well as geo-mechanical studies, for the R-cluster development.
However, "clarity on gas price is required for a final decision on investment". In August, Niko had stated the partners wouldn't make any further investment in the absence of market-linked pricing. Niko is a 10 per cent partner in the D6 block operated by RIL.
British oil and gas firm BP Plc holds 30 per cent. So far, RIL has made 19 gas discoveries and one oil find in the KG-D6 block. Of these, the D1 and D3 gas fields were brought into production in April 2009, while the MA oilfield began producing oil in September 2008.
The government has already approved $1.529 billion of investment in four satellite fields, which can produce 10 mscmd
. Investment plans for the rest are under consideration.
RIL estimates output from KG-D6 could reach up to 60 mscmd in the next five years, when all satellite fields are brought into production.
At its annual general meeting, the company had circulated a document, 'Flame of truth', which said a gas price rise would increase the revenue earned on India's entire gas production by Rs 26,000 crore or Rs 260 billion.
Of this, Rs 12,000 crore comes back to the government as royalty, profit petroleum, taxes and dividend," RIL said, adding, "The share of RIL and its partners is only Rs 3,000 crore or Rs 30 billion, not Rs 54,500 crore or Rs 545 billion, as is being alleged by vested interests, which goes to meeting capital, financial and operational costs before it can be counted as profit."
In the document, the company said it had invested $12.6 billion in exploration, development and production, adding it remained the largest investor under the National Exploration and Liensing Policy.