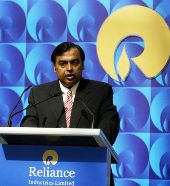 Reliance Industries Ltd has decided not to use its allocation of gas from the Krishna-Godavari basin's D6 field for petrochemical production; it will, instead, swap it with gas available from other sources. It will use D6 gas only for power generation.
It is doing so, it says, since D6 gas is lean in nature and cannot be used for producing petrochemicals. A similar swapping is already being done by government-owned GAIL India, which was allotted for its LPG (liquefied petroleum gas) production earlier this year.
RIL is itself the operator of the D6 field, having discovered and developed the find. However, who is to get the gas and at what price is a Union government decision. Recently, long after RIL began supplying the gas to other customers, it was allowed to get a specified quantity for its own industries.
GAIL had signed a gas sales and purchase agreement to buy 2.594 million standard cubic metres a day from D6. This gas has been allocated for usage in GAIL's six LPG production units.
However, GAIL is instead supplying this gas to its consumers in the fertiliser and power sectors. "These consumers were being supplied rich gas, which is better suited for our LPG plants. We are swapping the KG gas, which is lean, with the rich gas that was being supplied to our other consumers," said a company official.
Similarly, NTPC will also be swapping D6 gas. It decided to use D6 in its power plants at Dadri (UP), Anta (Rajasthan) and Faridabad (Haryana), and divert the gas already available to these plants from the Panna-Mukta and Tapti (PMT) fields to its Kawas and Gandhas units in Gujarat.
This was done since the company is involved in a legal dispute with RIL on the supply of gas to the two Gujarat plants. RIL was itself allocated 1.918 mscmd of gas last week for its petrochemical units. It is consuming regassified liquefied natural gas, APM gas and PMT gas to manufacture products at these units.
The department of chemicals and petrochemicals had supported the case of the petrochemical plants.
Image: Mukesh Ambani