Reliance Industries Limited (RIL) has cut capital investment on the main oil and gas fields in the KG-D6 block by $3 billion on the back of an unexpected drop in reserves in an area that was once India's most prolific. The company has filed revised field development plans for the Dhirubhai-1 and 3 (D1 and D3) gas fields, as well as the D-26 MA oil and gas field - the only producing areas among a total of 19 oil and gas discoveries made in KG-DWN-98/3 or the KG-D6 block.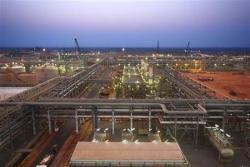 Sources said the company had scaled down capex in D1 and D3 fields to $5.93 billion from the $8.84 billion spending it had proposed in 2006. RIL has already spent $5.69 billion on the D1 and D3 fields that began producing gas in April 2009 and plans to invest a further $235 million in raising gas compression capacity.

Sources said that in the revised field-development plan (FDP) for MA field, RIL had scaled down the investment by $276 million to $1.96 billion. RIL had in 2006 proposed to invest $2.23 billion in developing the MA discovery, which began producing oil in September 2008 and gas in April 2009.

A government-controlled panel approved the MA field's revised plans, wherein the operator RIL would drill one gas well and convert two oil wells into gas wells to raise output over the next two-three
years. RIL has so far drilled six wells on the MA oilfield. But, it had to shut two due to high water and sand ingress, leading to drop in output from over eight million cubic metres a day three years back to just over five mmscmd currently.
Sources said RIL in the revised FDP for D1 and D3 stated the remaining reserves in the fields did not justify drilling of more wells and the additional $235 million spending would be for raising gas compression capacity.
In 2006, RIL had proposed to drill a total of 31 wells, capable of producing 80 mmscmd of gas by 2012. However, RIL has so far drilled only 22 wells on D1 and D3. Of these, only 18 have so far been put on production while the last four drilled in 2011 have not been connected to production system as they contain uneconomical reserves. D1 and D3 are producing 21 mmscmd of gas, down from 53-54 mmscmd achieved in March 2010. The output fell as high water and sand ingress shut six of the 18 wells.
The field had not behaved as predicted and so indiscriminate drilling would be a big drain on cost, RIL said, adding the investment downgrade followed only 3.1 trillion cubic feet (tcf) of gas reserves remaining in D1 and D3 instead of 10.03 Tcf estimated in the 2006 plan. RIL believes gas reserves lie in the satellite finds around D1 and D3 and wants to develop them quickly to produce up to 30 mmscmd of additional gas.