Reliance Industries (RIL) has cut estimates for proven gas reserves in its Krishna-Godavari block off the east coast by 6.7 per cent, to 3.67 trillion cubic ft (tcf), the company said in its annual report.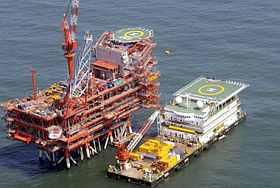 The report also mentioned it had planned to invest Rs 4,800 crore (Rs 48 billion) in its telecom business this year. The company, which has Broadband Wireless Access licences across the country, is to launch high-speed data services on the LTE platform this year.

"The broadband market in India is expected to leapfrog from its current user base of around 20 million wireless and wire-line subscribers. Our foray in Broadband Access is aimed at achieving a leadership status in providing digital services to a large base of consumers and providing next generation data services," said Mukesh Ambani, chairman and managing director, in a statement to shareholders.

During the financial year, Infotel Broadband Services Ltd (Infotel), a subsidiary of RIL, acquired 38.5 per cent stake in Extramarks Education Pvt Ltd, a company focused on school education and digital learning.

RIL is building one of the largest coke gasification facilities in the world, with capital expenditure of $4 billion (Rs 22,000 crore) over the next three to four years. This will significantly increase the complexity and profitability of the refinery and also make  it more environmentally-friendly. And, enhance bottom-of-the-barrel conversion in terms of value creation, the company said.

"Our planned expansions in the petrochemical segment have commenced
and are aimed principally at addressing the growing consumption in India. These expansions will leverage from downstream integration with RIL's refining complex and the resultant feedstock security," Ambani added.
KG-D6


Ambani said production from the KG-D6 block had been adversely impacted, mainly due to unforeseen reservoir complexities and water ingress in the producing fields. "Significant steps have been taken by the joint technical teams in assessing options for overall reservoir management, based on which an integrated plan for work-overs and additional wells can be executed, subject to necessary regulatory and government approvals," he said.
RIL's 30 per cent partner in the block, UK-based BP, in its calendar year 2011 annual report, had stated it accounted for just 0.3 tcf of proven reserves (1P) for its 30 per cent stake, implying that gross 1P reserves in KG-D6, including the government's share, was barely 1.4 tcf.
Canadian exploration company Niko Resources, which holds 10 per cent stake in KG-D6 for the past 12 years, had also revised its estimate downward. In March this year, the company said it expected a drop in reserves at the Dhirubhai-1 and 3 (D1 & D3) gas fields.
And, petroleum minister Jaipal Reddy said on Tuesday the output at D6 was projected to decline to 20 million standard cubic metres a day (mscmd) in 2014-15, from an estimated 28 mscmd this financial year.
RIL's philanthropy arm, Reliance Foundation, is in the process of setting up a Reliance Institute of Technology in Jamnagar and a Reliance Polytechnic in Dwarka in partnership with the Gujarat government, the annual report stated.