Entering another important segment of the natural gas business, Reliance Industries Ltd and BP India are in talks with gas-starved power projects of Andhra Pradesh to supply long-term liquefied natural gas (LNG).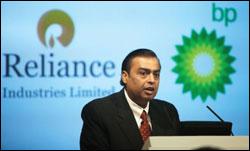 India Gas Solutions (IGS), the equal joint venture between the two companies, is looking to sell LNG to five power producers in Andhra Pradesh - GMR, GVK, Lanco Infratech, Sravanthi Energy and Konaseema Gas - and would give them term sheets in the next few days.
BP, industry experts say, will source gas from the global liquefaction projects it has stake in, including Australia's North West Shelf, Abu Dhabi's ADGAS, Indonesia's Bontang and Atlantic LNG of Trinidad & Tobago.
IGS is known to have quoted a price of $9.5 per mBtu for LNG, which could go up to $10.63 ex-regassification. This would be more than twice the price it sells gas from its KG-D6 block at $4.32 per mBtu.
Andhra Pradesh has been facing severe power shortage and has recently called for bids for short-term power supply. The tariffs that have been quoted are upwards of Rs 4.30 paise, indicating support for more expensive LNG.
"In the medium term, Rs 4.50 per unit would be an acceptable tariff in Andhra Pradesh. At these tariffs, power producers can find support at a landed cost of $10-11 per mBtu," said Debashish Mishra, senior director of Deloitte Touche Tomatsu.
Gas production has been falling in the last two years, depriving many gas-based power plants set up in the belt of a fuel source. The alternative source, spot LNG, would work out very expensive for the companies.
Currently, the spot price of LNG is $17-18 per mBtu. The deal offered by IGS might work out, according to experts. "It is better to run a plant to an extent with expensive LNG rather than shutting it down or leaving it stranded," said an industry expert.
Many gas-based power plants have been running at lower than 40 per cent capacity utilisation, affecting the earnings of some of the companies. GVK, for example, saw a 29 per cent drop in revenue from its three gas projects in the quarter ended June 2012. GMR, too, posted a Rs 27-crore (Rs 270 million) loss in profit after tax before minority in its energy segment.
"It is mainly due to lower gas availability in Kakinada and Vemagiri (gas-based power) plants," the company said. Lanco Infratech's second unit at Kondapalli has also suffered due to a reduction in gas supply from Reliance's KG basin.
An email sent to Reliance Industries remained unanswered. Questionnaires sent to the power companies on the development also did not evoke any response.
RIL has been in talks to book capacity at Shell Hazira Gas Private Ltd, a joint venture between Anglo-Dutch energy company Shell and France's Total, and Petronet LNG's Dahej terminal.
"We are in talks with various LNG terminal operators to book exclusive capacity at the existing LNG terminals. We want to get capacity and bring gas to market. We would pay them toll charges," an RIL executive had earlier told Business Standard.
India currently has two LNG terminals, both in Gujarat, that have been bringing in LNG from across the world. Though Shell has been offering capacity at the terminal on a merchant basis, PLL promoters so far market regasified LNG themselves.
Photograph: Courtesy, naturalgasasia.com