Reliance Industries is awaiting government approval for two gas discoveries it has made in the Krishna Godavari basin deep sea block, the company's junior partner Hardy Oil & Gas said on Thursday.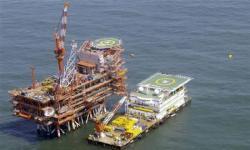 RIL has so far made four consecutive gas discoveries in the KG-DWN-2003/1 (D3) block that sits in the same area as its now producing KG-D6 gas fields. Of these four finds, two have so far not been declared commercial by the government, a step necessary before they can be put to production.

"A revised proposal for the declaration of commerciality (DOC) for the Dhirubhai 39 and 41 natural gas discoveries, submitted earlier this year, remained under review by the government," Hardy said in its Interim Management Statement.

RIL, which is the operator of the block with 60 per cent interest, has so far made four consecutive gas discoveries - Dhirubhai 39, 41, 44 and 52 in the block. Hardy holds 10 per cent interest while the rest 30 per cent is held by BP Plc.

"The government of India's review of the D3 DOC proposal will likely continue into 2013," Hardy said.

Once DoC is approved, RIL-BP-Hardy will put together a field development plan to bring the finds to production.

"The proposed development plan provides for a dry gas, sub-sea cluster development with the flexibility to add in additional wells
and to include possible adjoining area of discoveries," Hardy said.
Situated in the Krishna Godavari Basin, a prolific petroleum province on the East coast of India, the D3 exploration licence encompasses an area of 3,288 square kilometres and is located approximately 45 km offshore.
RIL has contracted deep-water drillship Dhirubhai Deepwater KG2 to drill a fifth exploration well on the block. The rig is expected to arrive in Indian waters by the end of the year and drilling of the well is expected to commence in the first half of 2013, Hardy said.
"Through 2013 we will continue to collaborate actively with our partners RIL and BP to optimise the exploration programme for this highly prospective block," it said.
Processing of 3D seismic data covering the eastern area of the D3 block is also expected to be completed by the end of 2012. About 3,250 sq km of 3D seismic data over the block has already been acquired.
RIL will continue to undertake a number of geotechnical studies, which have been focused on assessing the potential of the eastern area of the block and high grading prospects, including testing deeper play types, Hardy said.
"The KG Basin is a world-class petroleum province and together with rapidly improving Indian gas pipeline infrastructure and the high demand for gas, the prospects for the economic development of gas resources in this area are excellent," it added.