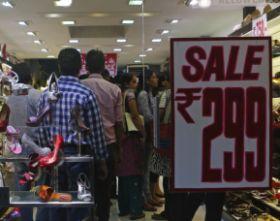 Retail king Kishore Biyani (below left) talks to Viveat Susan Pinto and Raghavendra Kamath about deep discounts, his e-commerce plans and the Future group's food and consumer goods venture. Excerpts:
Do you think discounting by e-commerce players, like Monday's sales of Flipkart and Snapdeal, will kill physical retailers?
As long as e-commerce companies are funded, they will be able to offer these discounts.
The moment the funding stops, there will be no discounts. How long can anybody do business at a loss?
Nobody should be selling below cost price, whether it is us or them.
They are surviving because of discounts. Plus, it is a new format so people are curious. When modern retail came, people were equally curious.
This will settle down.
Do you want the government to do something about the way these companies are operating?
The problem is in the understanding of the e-commerce business. What money they actually collect is not known.
What they disclose is the revenue collected up to the gross merchandise value.
The latter can be 600 per cent higher than actual collection. If they are saying they are doing Rs 600 crore (Rs 6 billion) of business, how much have they actually collected? Those numbers never come out.
Second, 80 per cent of their gross merchandise value is from mobile phones.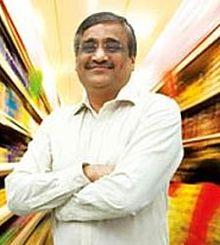 Where are we competing with them then?
The mindspace they have occupied is far larger than their share of market.
I don't know why there is so much excitement about e-commerce.
You give us the money to fund a loss, we will also discount our products.
We are doing a shopping festival now. But our policy is clear: we do not sell anything below cost price.
I cannot afford to give an Apple iPhone at Rs 20,000 less than its cost price. It is not sustainable.
What are the food brands you are looking to launch?
Sunkist, a beverage range, will be launched in the next few days across markets.
We are also launching three new foods brands, Karmiq, So Fresh and Veg Affair. Each of these will have its own range. Veg Affair will be ready-to-eat frozen vegetables, including peas and carrots.
Karmiq is for canola oil and other such products as well as dry fruits. So Fresh will be bread, fruits and vegetables.
So Fresh has been launched in our stores in Bangalore.
We will take it to other cities. Karmiq will be launched in the next 60 days, and Veg Affair will come after that.
I am not getting into mass distribution of these products like a conventional consumer goods company.
I will be opening more KB's Fair Price shops, which is our convenience store chain.
Our plan is to open 5,000 such outlets by 2018-2020 and operate in at least 20 cities by then.
I will also use cash-and-carry to push these products. They will be available within other formats in the group such as Big Bazaar.
But no general trade, because that is a completely different channel of distribution.
The perception is the Rs 20,000 crore target you have set for the food business is ambitious.
The food parks are my rasoi (kitchen) for my front-end business.
We are setting up the country's most modern flour mill at Tumkur.
We are setting up the largest pasta unit in the country there.
We are making 100 varieties of atta. We are setting up a plant to produce carbonated water and juices. So a lot of units will come up at the food parks.
People may think the Rs 20,000 crore (Rs 200 billion) number is ambitious.
But a few years ago, I had said we would do Rs 1,000 crore (Rs 10 billion) in our food business, which we have.
You have said that you want to be a consumer products company. Is your food and consumer goods venture a step in that direction?
We have always been a consumer products company. We have the largest number of brands in fashion.
We have the largest number of brands in foods. We are building our beverage business. We might get into dairy.
We have gone into frozen foods. We are into television and other consumer electronic and durable products.
We sell the largest number of microwave ovens.
We are looking at joint ventures in personal care, chocolates and biscuits. We also took a stake in a company called Baker's Street, which is into breads.
So we are already into a number of product categories and are looking at more.
In the end, it is all about the products and services you have because that is what consumers consume.
How will you unlock value in your food parks?
If I have to unlock value, I will do it at the level of Future Consumer Enterprises, which is the company driving my food and consumer goods interests.
I already have very good investors at that level. We have a 10 per cent stake from Arisaig Partners and another 10 per cent stake from a family in Belgium.
There are a number of other investors wanting to buy stakes. I do not see a problem in investments.
Why tie up with an e-commerce player when you have your own initiative in the pipeline?
Omni-channel retail (the group's e-commerce platform) is an extension of my physical store.
Tying up with an external partner is intended to sell my brands.
I am not going to sell LG or Samsung on an external e-commerce platform. I will sell my private labels.
The endeavour with external e-commerce platforms is to have exclusive tie-ups with them to push our brands.