Cheaper food items helped retail inflation drop to a fresh low of 4.38 per cent in November - the fifth consecutive month of decline - a development that can strengthen the case for interest rate cut by the RBI.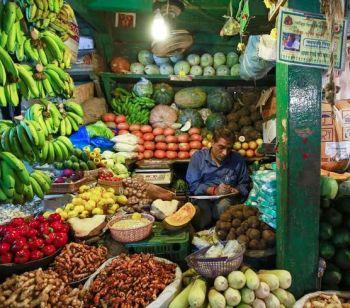 This is the lowest level of Consumer Price Index (CPI) based inflation since the government started computing the new series of data in January 2012. It stood at 5.52 per cent in October 2014, while same was over double the current level at 11.16 per cent in November 2013.
The food inflation also came down to 3.14 per cent in November as against 5.59 per cent in the previous month.
Retail prices of vegetables declined by 10.9 per cent as against a decline of 1.45 per cent in October, according to the data released by the Ministry of Statistics and Programme Implementation today.
Price rise in fruits slowed to 13.74 per cent from 17.49 per cent in October.
However, the rate of inflation in protein-rich items like eggs, fish and meat was at 6.48 per cent in November, slightly higher from 6.34 per cent in the previous month.
The Reserve Bank in the recent past has focussed on retail inflation while deciding its monetary policy, but there have been no rate cut for many months.
RBI has been targeting a retail inflation of 8 per cent by March 2015 and 6 per cent by January 2016.
In its monetary policy review earlier this month, the Reserve Bank kept its key repo rate unchanged at 8 per cent and cash reserve ratio (CRR) at 4 per cent.
"...if the current inflation momentum and changes in inflationary expectations continue, and fiscal developments are encouraging, a change in the monetary policy stance is likely early next year, including outside the policy review cycle," RBI Governor Raghuram Rajan had said.
"Inflation has come down because of the seasonal fall in vegetable and fruit prices. And it has also been helped by fall in global commodity prices... However, RBI will not cut the policy rates before the Union Budget (2015-16)," said Rupa Rege-Nitsure, Chief Economist, Bank of Baroda.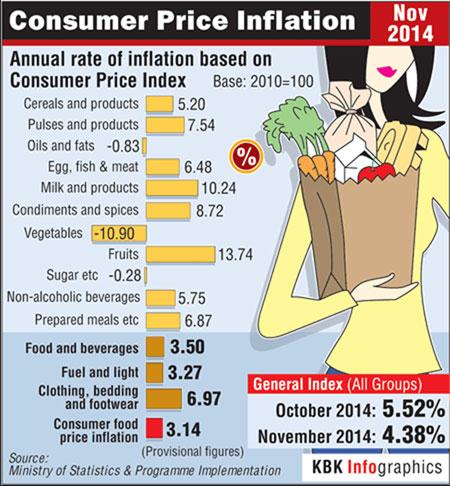 Among other items, prices of cereals and its products came down to 5.2 per cent from 6 per cent in the previous month. For pulses and products, inflation stood at 7.54 per cent, marginally higher from 7.51 per cent in the previous month.
In the fuel and lights category, inflation softened to 3.27 per cent during the month. For milk and milk products, the rate of price rise stood at 10.24 per cent against 10.79 per cent a month ago.
The rate of price rise in non-alcoholic beverages was 5.75 per cent in November from 5.64 per cent in previous month. Inflation in food and beverages stood at 3.5 per cent over 5.68 per cent in the previous month.
Sugar prices fell by 0.28 per cent during the month compared to 0.37 per cent rise in October.
The data further showed that consumer inflation came down to 4.69 per cent in urban India and 4.09 per cent in rural parts during November. In the previous month, the respective figures stood at 5.63 per cent and 5.52 per cent.