Reliance Communications (RCom) and Reliance Industries (RIL) were the top losers among Sensex stocks on Thursday, after a research report by Canada-based equity research firm Veritas made damning accusations against their managements.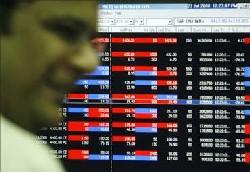 While RCom was the biggest loser and fell 4.24 per cent to Rs 90, RIL came second, with the stock falling 1.66 per cent to Rs 860.

In a report dated July 18 posted on its website, Veritas Investment Research claimed it had picked many holes in accounting and corporate governance practices of the two companies relating to the demerger of and listing of Reliance's telecom business in 2005 and 2006, respectively.

The 50-page report claimed that minority shareholders lost out big time.

While RIL did not want to comment on the issue, the RCom spokesperson said the company wanted to take "legal action against Veritas in Canada, India and elsewhere against publication of any part of the false and defamatory comments in the report."

Veritas, the spokesperson said, was an "unknown organisation lacking any credibility whatsoever, and it has, for ulterior and dishonest motives, published a malicious and motivated report containing baseless allegations, masquerading as research".

The company said "the language of the report, and the manner of its
dissemination in an orchestrated manner over the past four weeks in multiple Indian languages by a Canadian outfit debunks any claims of the same being genuine research, and clearly establishes the same to be the handiwork of our unscrupulous corporate rivals".
"RCom's accounts have been duly audited by top international accounting firms for the past several years, and any adverse comments in relation thereto by Veritas are biased, mischievous and malafide," the spokesperson said.
Observers familiar with the developments wondered what prompted Veritas to wake up six years after the demerger and listing of RCom.
"The deal was approved by the court and the state government in 2006. Veritas could have raised objections then, why now?," one of them asked.
Veritas defended its report strongly. Replying to an emailed questionnaire, Neeraj Monga, the co-author of the report, said, "Every piece of information in our report is sourced publicly and footnoted. The appendices are attached for authenticity".
The report, he said, was meant for North American and Indian investors. North American and European investors have lent substantial sums to RCom and RIL and are also holders of global depository receipts of these companies.
On the delay in publishing the report, Monga said the firm started by writing an accounting piece on RCom and uncovered the accounting issues along the way.