RIL has faced protests from local authorities, activists and residents across India campaigning against masts and roadworks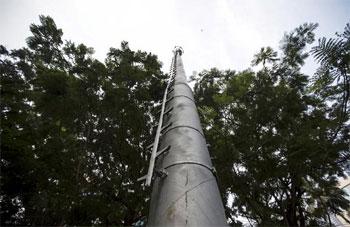 Residents of a Mumbai suburb are taking on one of the country's biggest conglomerates in a rare grassroots protest against a 25-metre telecom mast that marks a new stumbling block in India's troubled push to get millions more online.
India's e-commerce industry has boomed in recent years but its mobile and data coverage has struggled to keep up, largely because of poor infrastructure. That makes towers and cables critical as more Indians use their phones to go online.
For Reliance Industries, the company building the mast, the stand-off is an unwelcome public reminder of what it has at stake - the telecoms newcomer has spent about $13 billion on the venture since winning a nationwide 4G spectrum auction five years ago but has not yet finished building a network.
Investors are loath to comment publicly on Reliance, led by Mukesh Ambani, one of India's richest men, but several contacted by Reuters expressed concern at the wait for a return on cash that Morgan Stanley analysts estimate could hit 20 per cent of capital employed by the 2018 financial year.
In Mulund, a middle-class residential area to the north of India's financial capital, residents say the tower would cramp a local playground - a big problem in an overcrowded city where empty, green space is rare.
Backed by an influential lawmaker, who has taken concerns to New Delhi, Mulund residents hope to keep the mast out and have filed charges of intimidation against Reliance's contractor.
"Why does Reliance want to put these towers in our open spaces? These parks and grounds are the few places where children and the elderly can come and spend time," said resident Prakash Shinde, a 42-year-old businessman.
Mulund is not alone. Over the past three months the company, which is preparing to launch its telecoms unit Reliance Jio this year, has faced protests from local authorities, activists and residents across India campaigning against masts and roadworks.
Reuters has documented at least six cases in the past three months, and industry lobbyists say it is a headache, as telecoms firms need improved coverage.
"It is a very clear and major issue here. They want 24/7 mobile service now that everybody's used to it - yet they don't want the tower," said Umang Das, director general of India's Tower and Infrastructure Providers Association.
Reliance, in an emailed statement, said its towers were designed to rigorous national standards and conformed to all rules, including radiation limits - a major popular concern.
"Aesthetically, they mix well with the city infrastructure and can be used for various additional facilities," it said, citing street lights and security CCTV.
Attempts to reach Reliance's contractor through the company and the police station where the complaint was lodged were unsuccessful.
On the phone
Mulund and other so-called NIMBY ("not in my back yard") disputes may seem minor local irritants to a company with the heft of Reliance, a conglomerate built around energy that has a market value of about $43 billion.
But they highlight the difficulties that have plagued its mobile bet, held up by everything from the lack of masts to a shortage of available handsets.
Reliance has said it is on track to roll out its 4G offering this year, the deadline under its original licence deal, but the business could drain cash for years. HSBC analysts said in a note last week that they expected the business to report a net loss for 4-5 years after rollout.
Reliance made its return to telecoms in 2010 but has yet to start services as it builds its business using a still-developing technology, 4G-LTE.
There is room for optimism - analysts say the large scale adoption of 4G phones in China has helped lower prices, with 4G-enabled phones now available in India for about $100. And China's 4G experience has been a success.
Still, Reliance faces a practical problem in a country where monkeys bring down cables and roadworks can last years.
According to some industry estimates, the company needs about 100,000 tower sites. While it has agreements with most Indian tower companies to lease towers, it still needs close to 30,000 4G towers, which it is installing itself.
If it succeeds, it could offer voice calling and data at speeds that could reach 50 Mbps, compared with 300 to 500 kbps most Indian mobile users get on 2G networks.
"Reliance's stock has been languishing and telecom spend is one of the overhangs for it," said one large institutional investor in Reliance, who declined to be named. "$13 billion spent without any visibility on cash flow is a big risk."
Image: A Reliance celltower installed in a public park is pictured in Mumbai. Photograph: Danish Siddiqui/Reuters
Additional reporting by Abhishek Vishnoi