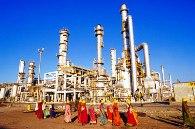 The Registrar of Companies has given a clean chit to Reliance Industries, while disposing of complaints that its merger with Reliance Petroleum would benefit only promoter Mukesh Ambani.
"...it seems that company (RIL) has not violated any provision of the Companies Act, 1956", said Mumbai office of the Registrar of Companies (RoC), an arm of the Corporate
Affairs Ministry, after inquiring into a complaint by a little-known investor body Indian Council of Investors.
The Council, in its complaint, had alleged that RIL-RPL merger was not in the interest of the shareholders and aimed at benefiting Mukesh Ambani personally.
Even a Member of Parliament Abani Roy, who filed a complaint against the RIL-RPL merger with the RoC Mumbai, later withdrew his application stating that "merger scheme...is beneficial and advantageous to even an ordinary shareholder. It appears from reports that process of merger is taking place in compliance with all existing rules and regulations."
RIL and RPL are in the process of obtaining statutory clearances for the merger scheme, which was approved by boards of both the companies on March 2, 2009.