Reliance Industries Ltd on Friday reported its highest-ever quarterly net profit of Rs 19,299 crore in January-March on the back of stronger earnings from the oil and petrochemicals business and steady growth in retail and telecom operations.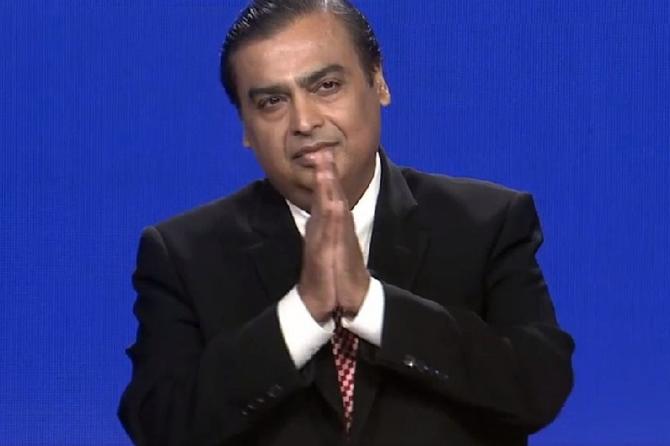 The oil-to-retail-to-telecom conglomerate's consolidated net profit of Rs 19,299 crore, or Rs 28.52 per share, in January-March compares to Rs 16,203 crore, or Rs 23.95 a share, earnings in the same period a year back, according to the company's stock exchange filing and press statement.
A stronger margin from refining crude oil into products like petrol and diesel, resilient fuel exports earnings on lower windfall tax and chemical business witnessing a buoyancy from the use of ethane as feedstock drove oil-to-chemical (O2C) business.
While higher subscriber additions and stable ARPU (average revenue per user) helped boost the telecom segment's earnings, the retail segment was driven by an increased store footprint.
Analysts had forecast a decline in net profit as they saw continued weakness in petrochemicals margins.
But using ethane imported from the US helped the company as its prices softened during the quarter.
The total income rose to Rs 2.19 lakh crore from Rs 2.14 lakh crore a year back.
Sequentially, the net profit was up 22 per cent from Rs 15,792 crore in October-December 2022.
For the full fiscal (April 2022 to March 2023), Reliance reported its highest-ever net profit of Rs 66,702 crore on a revenue touching close to Rs 10 lakh crore.
The firm had a net profit of Rs 60,705 crore on a revenue of Rs 7.36 lakh crore in the preceding fiscal.
Operationally, all businesses were firing all cylinders.
EBITDA at Rs 41,389 crore, was up 22 per cent year-on-year.
The mainstay oil refining and petrochemicals business, called O2C, posted a 14.4 per cent rise in EBITDA to Rs 16,293 crore.
While digital services, which includes telecom, EBITDA at Rs 12,767 crore was 17 per cent higher, retail EBITDA was up 33 per cent at 4,769 crore.
Oil and gas EBITDA more than doubled to Rs 3,801 crore - an 8-year high.
For telecom, EBITDA was driven by 29 million overall net customer additions.
Blended ARPU, whereas, was almost flat at Rs 178.8.
In retail, it increased the number of stores to 18,040 from 17,225 in the preceding quarter.
Store footfall soared 41.3 per cent to 219 million.
Reliance said the windfall profit tax on the export of diesel and ATF impacted the profit for the quarter at Rs 711 crore, down from Rs 1,898 crore in the preceding three months.
The government in July 2022 slapped a new tax on the export of petrol, diesel and jet fuel (ATF) as well as on domestically produced crude oil to scoop some of the gain being made by companies from higher global energy prices.
Telecom arm Jio reported a 15.6 per cent rise in net profit to Rs 4,984 crore on a higher customer base of 439.3 million.
Retail business net profit was up 13 per cent to Rs 2,415 crore on the addition of more stores, growth across consumption baskets and rising contribution from digital channels led to a rise in retail segment profits.
The company said its net debt after considering Rs 193,282 crore cash balance was lower than annualised EBITDA.
Commenting on the results, Mukesh D Ambani, chairman and managing director, Reliance Industries Ltd, said the firm's initiatives in digital connectivity and organised retail are driving greater efficiencies in the economy and contributing to India's emergence as one of the fastest-growing economies in the world.
"Jio continues to digitally empower millions of citizens across the nation, extending True 5G reach to 2,300+ cities and towns in a short span of 6 months," he said.
"Retail business registered excellent growth numbers backed by the expansion of physical and digital footprint and a significant increase in footfall."
Also, the firm continues to expand its product base across consumption baskets, ensuring our customers get world-class products at affordable prices.
"O2C segment posted its highest-ever operating profit despite global uncertainties and disruptions in commodity trade flows.
"Our oil and gas segment also delivered very strong growth and is now poised to contribute nearly 30 per cent of India's domestic gas production," he said.
Ambani said Reliance has proposed to demerge its financial services arm and list the new entity 'Jio Financial Services Ltd'.
"This gives our shareholders an opportunity to participate in an exciting new growth platform from inception."
Implementation of New Energy giga factories at Jamnagar is making significant progress, he noted.
Reliance's annual EBITDA crossed the benchmark of Rs 1.5 lakh crore for the first time; the record-high EBITDA stood at Rs 154,691 crore, up 23.1 per cent year-on-year.
Capital expenditure for the year was Rs 141,809 crore.
Net debt as of March 31, 2023, was Rs 110,218 crore, substantially below the annual EBITDA.
EBIDTA and net profit have doubled in last 5 years.
With incremental gas production from the MJ field, along with ongoing production from R Cluster and Satellite Cluster fields, Block KG-D6 production is expected to reach around 30 million standard cubic metres per day in FY24.
© Copyright 2023 PTI. All rights reserved. Republication or redistribution of PTI content, including by framing or similar means, is expressly prohibited without the prior written consent.