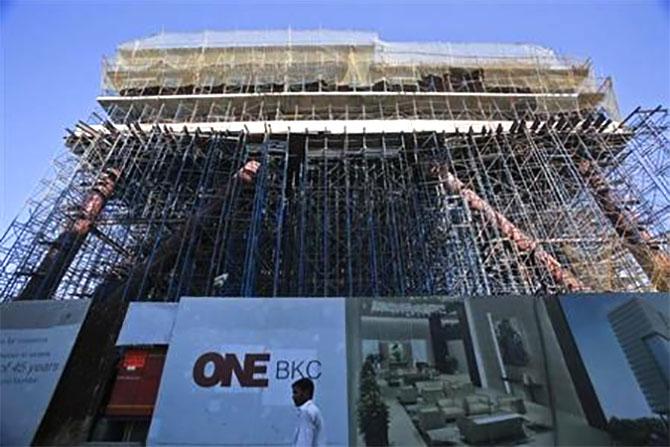 Reliance Industries owes Rs 341 crore (Rs 3.41 billion) to Mumbai Metropolitan Region Development Authority as additional premium charges at a joint property being developed in the posh Bandra Kurla Complex area, shows an RTI query.
The amount is penalty charged on the Mukesh Ambani-led company for failing to develop the C-66 plot in G Block, named as One BKC. It was to be developed within four years as a commercial building with car park.
The information, given by MMRDA to RTI activist Anil Galgali, showed that the amount has been due for the past 34 months.
When contacted, an RIL spokesman faulted the developer, Raghuleela Builders Pvt Ltd - with which MMRDA and RIL have a ripartite agreement to develop the property - for the delay in construction, which is now almost complete.
RIL also disputed calling the payment delay as "default", saying the developer has time to make the payment till the time of seeking occupation certificate (OC).
"The delay in payment can't be referred to as default since as per RFP (request for proposal), the lessee can make the payment along with interest, if any, before final completion certificate is granted," the spokesman said in a statement.
Galgali had filed an RTI query with MMRDA seeking details of the plot of the new business district in the central part of the megapolis in September 2008.
The state-run planning agency for Mumbai, in its reply, has said plot No C-66, ad-measuring 10183.18 square metres, was leased to RIL on September 27, 2008 for Rs 918.03 crore (Rs 9.18 billion) and allowed development of 30,550 sq metres of commercial space and 20,366 sq metres for public parking.
But Reliance failed to develop the plot within the stipulated timeframe and as per land disposal policy, it owes an additional premium of Rs 341 crore (Rs 3.41 billion) to MMRDA, said the RTI reply, furnished by an official of Town Planning Division.

The RIL spokesperson said: "Plot No C-66 (G, Block, BKC) is being developed by Raghuleela Builders under a development agreement as per the prevailing lease deed/RFP conditions. This is duly permitted by the MMRDA."
RIL also said the property is almost complete and only some final touches are pending, and the company and the developer have time to pay the charges till they seek the OC.
Apart from One BKC, Reliance is also building a huge convention centre in the business district, where it has already developed a public park named JioPark nearby, which was recently dedicated to the city.
An MMRDA official told PTI that "the land lease deed was executed on September 27, 2008 and the company (RIL) had to start work before September 26, 2012. But it failed to do so and started attracting additional premium to us despite sending reminders".
He added that the company had sought extension for completing the work and "we granted it too, still RIL has failed to develop the plot and has not been paying the additional premium charges to MMRDA".
Meanwhile, Galgali has demanded MMRDA issue a immediate stop-work notice to RIL and recover the additional premium first with interest and penalty. He said: "I have written a letter to Chief Minister Devendra Fadnavis and Metropolitan Commissioner U P S Madan over this brazen violation of rules and have demanded exemplary action against RIL."
Dilip Kawathkar, Joint Director for projects at MMRDA, did not reply to the calls and messages.
© Copyright 2019 PTI. All rights reserved. Republication or redistribution of PTI content, including by framing or similar means, is expressly prohibited without the prior written consent.