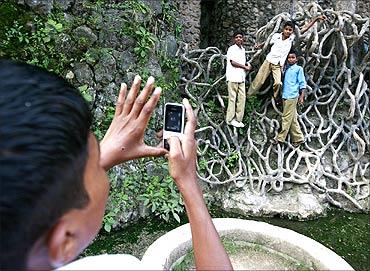 Reliance Jio Infocomm said it will commercially launch 4G services in 2015, entailing investments of Rs 70,000 crore (Rs 700 billion).
"The year 2015 will see the phased launch of Reliance Jio across India... The fruits of the tremendous value created by this Rs 70,000 crore initiative would start to flow," Reliance Industries Ltd chairman and managing director Mukesh Ambani said in his address to shareholders.
RIL promoted RJIL holds pan-India broadband wireless access (BWA) spectrum that can be used for 4G services. The company had acquired it through auction for Rs 12,847.77 crore (Rs 128.47 billion).
The 4G service will cover all states, around 5,000 towns and cities, accounting for over 90 per cent of urban India and over 215,000 villages.
"Eventually, the network will encompass each of our over 600,000 villages," Ambani said.
As per the rules, 2015 is last year for all companies who won BWA spectrum to roll out the services in at least 90 per cent of the service areas failing which the Department of Telecom will have the right to withdraw the radiowaves.
The licensee will have to ensure that at least half the areas under rural telecom exchanges gets the required street level coverage.
RJIL also acquired spectrum in 1800 Mhz band, widely known as 2G spectrum, for Rs 11,054.41 crore in February across 14 out of 22 service areas in country. The company has said that it will use these radiowaves also for 4G services.
"Engaged in this massive endeavour are over 10,000 full time Jio employees, working alongside nearly 30,000 professionals from our partners and vendors from all parts of the world. In addition, there are over 100,000 people working across the country in creating the digital infrastructure backbone for this network," Ambani said.
He said limited field trials of the company's network for broadband services are underway.
"Expanded field trials will commence in August this year across multiple cities. These trials would continue through the end of 2014 and early part of 2015," Ambani said.
During initial trials, RJIL in January showcased broadband speed of 49 megabit per second -- which is over 10-12 times more than 3G mobile Internet speed that consumer are getting these days.
At a speed of 49 mbps an user can download a full movie, which is generally of 600 megabyte size, within a few minutes.
The average top speed of 3G network is pegged at 4 mbps.