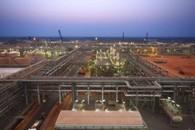 Concerned over fall in output at India's biggest gas field, oil regulator DGH has sent a fact finding mission to Reliance Industries-operated KG-D6 fields to ascertain reasons for the decline in production.
A three-member team lead by Gautam Sinha, Head of Production at the Directorate General of Hydrocarbons (DGH) will review well-wise production and reservoir performance of KG-D6 fields on April 27 and 28, sources privy to the development said.
Reliance had in 2006 won government nod to invest $8.836 billion on Dhirubhai-1 and 3 (D1 and D3 fields) in its eastern offshore KG-D6 block after assuring production of 61.88 million cubic meters per day of gas from 22 wells by April 2011 and 80 mmscmd from 31 wells by 2012.
But situation on ground has been markedly different with Reliance only producing about 42 mmscmd from 18 wells drilled so far on D1 and D3 field in the KG-D6 block. Another 8 mmscmd is being produced from MA oilfield in the same block, taking the total output to around 50 mmscmd as against committed 69.88 mmscmd, sources said.
Reliance says output has dipped after touching 61.5 msmcmd achieved in March last year due to falling pressure at wells and that drilling more wells will not solve the
problem as it will tap the same resource.
Sources said the DGH team would reach Vizag today from where it will proceed to Gadimoga, the landfall point of KG-D6 gas, to ascertain facts.
The team will review production achieved from each of the wells in comparison to the previously forecasted output.
Also ramp-up history of each well and the maximum sustained production reached from each well vis-à-vis well capacity and potential and reasons for current less production per well would be studied. DGH team will also assess possibility of increasing production from existing wells besides status and potential of the two newly drilled wells that have yet to be connected to the production system.
Geological aspects of the D1 and D3 fields in reference to well performance would also be studied. S K Srivastava, Director General of DGH had last week stated that the reasons given by Reliance for failing to drill the committed 22 wells on D1 and D3 fields were far from convincing.
DGH has convened a meeting of the Management Committee of KG-D6 block, which comprises of oil ministry officials and representatives of Reliance and its Canadian partner Niko Resources, to review the failure.
The regulator wants Reliance to drill 11 wells this fiscal, including two wells that were to be drilled last year.