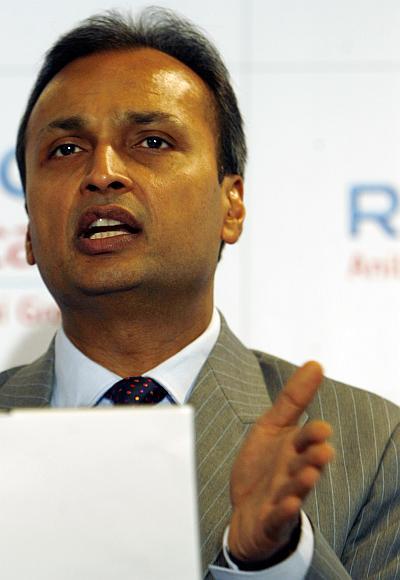 Exuding confidence in setting up a profitable banking venture, industrialist Anil Ambani on Tuesday said the proposed bank will help lower Reliance Capital's debt to one-fourth of current levels and would be listed as a separate entity in three years.
Addressing shareholders of Reliance Capital, the group's financial services arm, Ambani said that immediate benefit of the proposed bank would be a reduction in the company's consolidated debt from Rs 20,000 crore (Rs 200 billion) to Rs 5,000 crore (Rs 50 billion).
"Apart from the long-term growth potential of the proposed bank as a profitable institution in itself, the immediate benefit to your company will be the reduction in our consolidated debt from approximately Rs 20,000 crore to Rs 5,000 crore, upon transfer of our Commercial Finance business to the proposed bank," Reliance Capital Chairman said.
The company, which is already present in a host of financial services businesses like insurance, mutual funds and brokerage, submitted an application for banking license in June to the Reserve Bank of India (RBI). R-Cap is one of the 26 entities that have applied for banking licence.
Ambani said that the banking foray would also help improve R-Cap's debt-equity ratio to "a most conservative level of 0.5-1, which is far lower than industry standards". Stressing that the company was adequately capitalised, Ambani said there were no plans to ask R-Cap shareholders for providing initial capital for the bank.
"We presently have no plans to make a capital call, or ask you for money to invest in the bank, as your company is adequately capitalised.
"However, at the end of three years, we intend to list the proposed Bank, as per existing guidelines, and you may be assured we will fully explore all avenues to benefit our over 12 lakh shareholders at that time," Ambani said.
R-Cap plans to focus on five major businesses – life insurance, general insurance, health insurance, asset management and banking - for future growth, he added. Ambani-led Reliance Group is present across various consumer-facing businesses like financial services, telecom, energy, power, infrastructure, media and entertainment.
R-Cap has also proposed to partner with Japan's Sumitomo Mitsui Trust Bank and Nippon Life Insurance for its proposed banking venture, with 4-5 per cent stake to each of the two.
RBI has decided to issue fresh banking licences after a decade and the other contenders in the race include Tatas, Aditya Birla group, L&T, India Post, LIC Housing Finance, Bajaj, Edelweiss, IDFC, IFCI, Indiabulls, India Infoline, Muthoot Finance, Religare, Shriram Capital, SREI Infra, UAE Exchange, Tourism Finance Corp of India and JM Financial.
New licences are likely to be issued sometime next year. Ambani also welcomed the new guidelines of insurance regulator IRDA that allow banks to be licenced insurance brokers. "We welcome the IRDA's new regulations encouraging banks to become brokers and not remain just as corporate agents. Such a transition will benefit hundreds of millions of customers by providing them a wider choice of products from several life companies from each bank.
"This change will also widen distribution and reach for all players, especially newer entrants such as Reliance Life Insurance, and lead to our accelerated growth across the country," he said.
Ambani said that R-Cap delivered robust financial performance in the last fiscal, despite tough economic conditions.
Its total income rose by 13 per cent to Rs 7,519 crore (Rs 75.19 billion) in the last fiscal, while net profit grew by 77 per cent to Rs 812 crore (Rs 8.12 billion). Its total assets rose 15 per cent to Rs 40,588 crore (Rs 405.8 billion), while net worth has grown by 3 per cent to Rs 11,991 crore (Rs 119.91 billion).