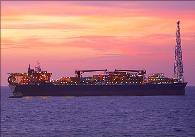 The government nod to Reliance Industries selling 30 per cent stake in its oil and gas blocks such as eastern offshore KG-D6 to London-based BP Plc for $7.2 billion hinges on no-objection certificate (NOC) from Canada's Niko Resources and UK's Hardy Oil and Gas.
Reliance is selling 23 oil and gas block it along with partners like Niko and Hardy had won under various rounds of New Exploration Licensing Policy (NELP) rounds since 1999. NELP allows firms to sell or farm-out participating interest (or stakes) subject to NOC from consortium partner, an official said.
Niko has 10-15 per cent in three gas discovery blocks of Reliance including the prolific KG-D6 while Hardy has 10 per cent stake each in Krishna Godavari basin D9 and D3 blocks.
By virtue of these stakes both Niko and Hardy have pre- emption rights and so the application that Reliance will make for transferring its stake to BP will have to be accompanied by a lot of documents, primary among them being the NOC of its consortium partners, he said.
"Without NOC, the government approval cannot be given," the official said. The application along with the requisite documents will have to be submitted to the regulator Directorate General of Hydrocarbons (DGH) who after examining will forward an in-principal approval to the Petroleum Ministry.
The official said the ministry after going through the application would approve and the file will go back to DGH. DGH then will make an Amendment to the Production Sharing Contract which will be submitted to the ministry and upon its approval will the deal be said to have received government nod.
The entire process may take at least 2-3 months, he said. The Europe's second biggest oil company had on February 21 agreed to a $7.2 billion deal for buying 30 per cent stake in 23 out of 29 exploration blocks held by Reliance. BP also agreed to a performance payment of up to $1.8 billion if the tie-up leads to the development of commercial discoveries.
Besides NOC, Reliance will have to submit resolution of operating committee of the blocks allowing entry of BP to the DGH, the official said.
Also, audited financial statements/annual report for preceding three years, copy of deal, copy of its board resolution to sell stake to BP and a draft amendment to the Production Sharing Contract (PSC) reflecting new shareholding will have to be submitted.
Besides, BP would have to submit a brief on its technical capability, copy of signed annual audited financial statements/annual reports for preceding three years, board resolution, an undertaking, bank guarantee and family tree of the parent company.