State power utility NTPC has not been able to secure bank guarantees for sourcing natural gas from Reliance Industries, as bankers have asked for certain clarifications from the supplier on drafting of the letter of credit.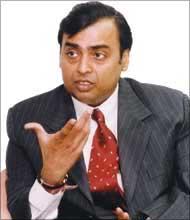 NTPC, which was allocated 2.67 million standard cubic meters per day (mmscmd) of gas by the government from RIL's eastern offshore KG-D6 fields, had on September 23 signed Gas Sales and Purchase Agreements (GSPA) for less than one-fourth of the earmarked volumes.
Accordingly, NTPC was to open letter of credit in favour of RIL for an amount equivalent to a month's supplies, a source in know of the development said.
However, "NTPC maintains that its banker has objected to a particular formulation in the LC and asked RIL to provide instances of public sector firms agreeing to the same."
PSU gas utility GAIL and Maharashtra State Electricity Board have provided LCs that include the said formulation as had been suggested by RIL, the source said.
MSEB is a partner of NTPC in Ratnagiri Gas and Power - the firm that operates the Dabhol power plant - which is drawing 4.5 mmscmd of gas from KG-D6 fields.
To guard against payment defaults, gas suppliers worldover ask customers to give bank guarantee for a particular number of billing cycles. In case of KG-D6, LCs have to be provided for two billing cycles - RIL raises bills every fortnight.
RIL had signed GSPAs for supplying 0.61 mmscmd of gas to the state-run firm's Anta, Dadri and Faridabad power plants. Anta power plant in Rajasthan signed up for 0.03 mmscmd while the remaining 0.58 mmscmd was split between Dadri plant in Uttar Pradesh and Faridabad unit in Haryana.
However, due to constraints in state-run gas utility GAIL India's pipeline to transport KG-D6 gas, all of the 0.61 mmscmd would be consumed at Anta plant, the source said.
The supplies would have commenced within a week but for the failure on NTPC's part to open LCs, he said.
The remaining 2.06 mmscmd of gas was allocated by the government to NTPC's Kawas and Gandhar power plants in Gujarat but the state-run firm is unwilling to use KG-D6 gas at those plants as it is seeking fuel for expansion projects at those sites from the Mukesh Ambani firm at $2.34 per mmBtu rates committed in the 2004 tender.
RIL has already written to the government seeking reallocation of these volumes to other customers as NTPC continues to refuse to even discuss GSPAs for these plants.
The company has been forced to keep output at just over 40 mmscmd of gas from KG-D6 fields despite having a capacity to produce nearly 65 mmscmd as customers like NTPC are not taking their allocated quantity and the government has failed to name new buyers beyond the initial volumes.