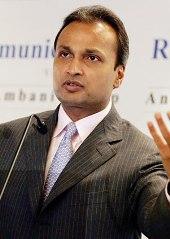 Anil Ambani Group firm Reliance Power said on Thursday it has tied up finances for its Rs 17,500-crore (Rs 175 billion) ultra mega power project at Krishnapatnam in Andhra Pradesh.
The 4,000 MW coal-fired project is being financed in 75:25 debt-equity ratio, R-Power said.
"R-Power announces the financial closure of its 4,000 MW Krishnapatnam Ultra Mega Power Project being developed by Coastal Andhra Pradesh Ltd, its wholly owned subsidiary," it said.
The company has executed financing agreements for the imported coal fired project, the largest in South India.
The project 'will supply power at a competitive levelised tariff of Rs 2.33 per kilo-Watt-hour (or unit) to the four states -- Andhra Pradesh (1,600 MegaWatt), Maharasthra (800 MW), Tamil Nadu (800 MW) and Karnataka (800 MW)."
IDBI Bank was the lead arranger of the Rs 13,125-crore (Rs 131.25 billion) debt with Power Finance Corp acting as joint lead arranger.
"A consortium of over 15 banks and financial institutions are participating in the financing arrangements," the statement said.
The consortium includes Rural Electrification Corp, LIC, Uco Bank, Union Bank, Andhra Bank, Corporation Bank, Punjab National Bank, Indian Overseas Bank, Andhra Bank, State Bank of Bikaner and Jaipur, State Bank of Hyderabad, Vijaya Bank, Punjab and Sind Bank, Yes Bank and Indian Bank.
"With the financial closure for the Krishnapatnam UMPP, we have completed the financing arrangements for two UMPPs awarded to us by the government and have secured funding for a capacity of 10,000 MW," R-Power CEO J P Chalasani said.
The company had earlier achieved financial closure of Sasan ultra-mega power project. "The Krishnapatnam financing is an important milestone as we undertake the implementation of our power project portfolio of over 37,000 MW," he said without giving details.
Image: Anil Ambani