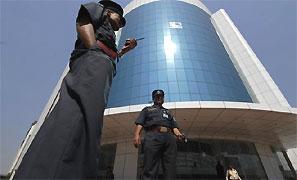 Reserve Bank of India intervenes to infuse liquidity and dollar selling helped in the recovery of the rupee and the Sensex
Armed with contingency measures to tackle extreme volatility, regulators on Friday kept a close watch on the markets as investors dumped stocks and the rupee tumbled following Britain's vote to leave the European Union.
While havoc played out in the equities market in early session, volatility seemed to be within permissible levels as regulator Securities and Exchange Board of India kept away from applying the circuit breaker with respect to the 30-share benchmark Sensex.
To ensure stability in the currency market, Reserve Bank of India is believed to have intervened to curb volatility while the government assured that there is enough firepower to deal with the impact of Britain deciding to quit the 28-nation bloc European Union.
As trends showing Brexit becoming a reality poured in, the domestic stock market began to tumble and crashed more than 1,090 points in early trade while the rupee too took a beating, plunging as much as 96 paise against the US dollar.
Officials said Sebi is closely in touch with RBI on the market developments amid surveillance being beefed up to curb excess volatility and possible manipulations in various trading segments, including currency derivatives.
Along with Sebi, stock exchanges were on alert as both of them strengthened their surveillance and risk management framework to tackle any eventuality.
Besides, they kept tabs on manipulators looking to exploit the volatile trends expected in stocks and derivatives, including those linked to rupee's movement against other foreign currencies.
After crashing over 1,090 points in early trade -- reflecting the global turmoil -- Sensex recovered some lost ground before ending the day at 26,397.71 points, down 604.51 points.
According to traders, RBI intervention to infuse liquidity and dollar selling helped in the recovery of the rupee and the Sensex.
The rupee on Friday touched a four-month low of 68.21 against the dollar before staging some recovery.
Finance Minister Arun Jaitley said India is well prepared to deal with short and medium term consequences of Britain exiting the European Union and has solid immediate and medium-term firewalls in the form of healthy forex reserves.
RBI Governor Raghuram Rajan said the central bank is watching all markets, both internationally and domestically, and "will provide domestic or foreign liquidity in appropriate amounts".
Rajan also said he is concerned about currency intervention by nations to create a competitive advantage and asked central banks around the world not to cause currency devaluations.
© Copyright 2022 PTI. All rights reserved. Republication or redistribution of PTI content, including by framing or similar means, is expressly prohibited without the prior written consent.