As 'too big to fail' banks face greater regulatory oversight in the US and other developed nations, Indian regulators too have identified certain groups as 'financial conglomerates' and they are being monitored closely for any systemic risks they may pose.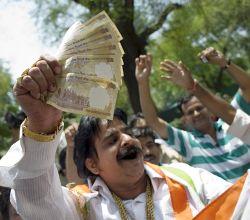 "Going by the size of our economy and our markets, there are institutions that are quite big. We need to keep an eye on them and, through our coordination mechanism, certain institutions have been identified and they are being monitored regularly," capital markets regulator Sebi Chairman U K Sinha said.

"This concept of better regulations for financial conglomerates and Too Big To Fail institutions are certainly relevant in India as well," he added.

Without naming any individual entities, the Sebi chief said "there are some conglomerates and those conglomerates are being monitored by a combination of regulators".

"Those (conglomerates) have been clearly identified. Their size may be smaller in comparison to the US institutions, but that is not relevant," Sinha told PTI.

"What is relevant is from the perspective of Indian economy and markets, are they big, and the answer is yes. The second question is, whether they are being monitored, and the answer is again yes, they are being monitored," Sinha said.

According to a 2013 status report published by global financial sector oversight body FSB (Financial Stability Board), India is progressing well on implementation of various G20 recommendations, including the regulatory framework for large financial conglomerates.

The G20 group of nations has called for consistent, consolidated supervision and regulation of SIFIs (Systemically Important Financial Institutions) and it states that "all firms whose failure could pose a risk to financial stability must be subject to consistent, consolidated supervision and regulation with high standards".

In India, the issue is being addressed mostly through supervisory actions, although global operations of SIFIs are not very significant in the Indian context.

The Financial Stability and Development Council (FSDC), an apex level body constituted by the government, has been set up to monitor macro prudential supervision of the economy. It includes the functioning of large financial conglomerates, and to address inter-regulatory co-ordination issues without compromising independence of individual regulators.

A group is identified as a Financial Conglomerate (FC) on the basis of its significant presence in two or more market segments from the five broad sectors - banking, insurance, securities, Non-Banking Finance and Pension Fund.

Of the 12 identified FCs, the principal regulator is RBI in eight cases, insurance regulator Irda in three cases and Sebi in one case, as per FSB report.

Large NBFCs (with an asset size of Rs 1,000 crore and above) are classified as systemically important and are subject to more intensive supervision.
Besides, a supervisory process for the Micro Finance Institutions (MFIs) is being worked out, while a revised supervisory manual for NBFCs is also under preparation.
The Insurance Regulatory and Development Authority has identified state-run LIC as systematically important insurer in Indian Insurance Industry, although it may not be so globally.

Overall, a Financial Conglomerates Monitoring Mechanism has been in place in India since June 2004 and it is being strengthened now through various measures. The key regulators involved in collective monitoring of these institutions include Sebi, RBI and Irda.

The initial list of 29 Global Systemically Important Banks (G-SIBs), published by FSB, does not include any Indian entity. Besides, no Indian entity is expected to meet the cut off threshold for this group in the near future.

However, at least 13 G-SIBs have operational presence in India in form of branches.

As per the proposed Domestic Systemically Important Banks (D-SIBs) framework, some of these FCs of which the bank is the parent entity as also other banks are likely to be identified D-SIBs.

As part of the criteria of identification of FC, RBI has collated and identified significant entities in the banking segment. Further, the Reserve Bank is also identifying D-SIBs.
The supervisory structure for FCs involves a two-pronged approach encompassing off-site surveillance and periodic interface with the conglomerates, which has proved quite robust in assessing the risks faced by these institutions.

Keeping in view the need for strengthening the supervisory processes for the FCs, the FSDC has been assigned a mandate for macroprudential supervision of the economy including the functioning of large FCs.

Further, an institutional framework in the form of an Inter Regulatory Forum (IRF) comprising members from the sectoral regulators (RBI, Sebi, Irda and PFRDA) has been setup under the aegis of the sub-committee of FSDC.
The Forum is mandated to assess risks to systemic stability from the activities of the FCs and ensuring their effective consolidated supervision.