Mumbai's realty sector will protest against an alleged decision deficit and policy paralysis in both the state and central governments besides various pertinent agencies.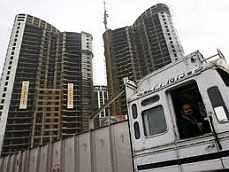 Various realty organisations, including the Maharashtra Chamber of Housing Industry and the Confederation of Real Estate Developers' Association of India, have joined hands to go on a token strike by holding sit-ins on May 3 in a bid to bring the administration's focus on a "lack of continuity in policies and inordinate delays" in getting various clearances. Practising engineers, architects and town planners would, on Thursday, take their call on participating in the proposed stir.

The move from realty players comes at a time when there has been a 14.8 per cent decline in property registration (sales and purchases) during January-March 2012 in Mumbai, even as there has been an 11.72 per cent surge in leave and licenses agreements.

The timing of a token strike is crucial, as auto unions have announced their decision to go on an indefinite strike to press for a tariff revision among other issues. Auto fuel dealers, too, have given a call for a similar strike call in the last week of this month.

The Maharashtra Chamber of Housing Industry finds a couple of issues that it has been repeatedly complaining with the government and civic authorities. "However, there has not been any major improvement," bemoans Paras Gudencha, its president.

A committee appointed by the state government for high-rise buildings had, instead of examining structural stability, been asking about other issues on which it had no jurisdiction, he claimed.

"It takes a long time to get approval from the committee. Besides, it takes at least two years to get building plans passed by the BrihanMumbai Municipal Corporation. It needs to be expedited."

Gundecha says more than 455 files of various projects await environment clearance. "Even though in Gujarat, Punjab and Kolkata, the environment clearance gets in eight to 10 months, it needs at least two years in Mumbai," he notes. "It requires the government's intervention to fast-track these clearances, especially from the ministry of environment and forest."

Yomesh Rao, director, YMS Consultants, which is engaged in professional consultancy to developers and societies, says delays in the approval process negate the purpose of rehabilitation and redevelopment.

This, in general, affects the infrastructure and housing needs of the middle class. What needs to be done is that the administrative officials and politicians alike should take decisions without fear in case of larger public interest."

Sachin Ahir, Minister of State for Housing, says the government is prepared for a dialogue. "The government is open for talks," he says. "I want to appeal the builders and developers to reconsider its plan to go on a token strike."

However, Gundecha says despite the talk, there has not been any formal policy announced by the government on rental housing. He also wonders why realty players need to keep aside certain flats for discretionary allocations despite the repeal of Urban Land Ceiling Act way back during the BJP-led NDA rule at the Centre.