Diversified group Godrej expects its real estate division to become its single biggest business in the next ten years, even ahead of its bread and butter FMCG vertical.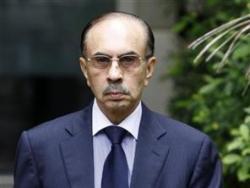 "We expect that in ten years time, it (real estate) will become our single biggest business. The advantage in property business is we do not have to be concerned about market share or size of the opportunities," GCPL chairman Adi Godrej told reporters on the sidelines of CII's Annual Partnership Summit in Agra.

He added that company's real estate business grew by almost 100 per cent last year despite slowdown in the sector.

"This is our fastest growing business. It has been growing between 50-100 per cent each year despite that fact that there has been slowdown in the sector. We grew almost 100 per cent last year and this year also we expect to grow very strongly," Godrej added.

Godrej termed property business as a "huge opportunity" adding that "no one company has even 5 per cent share of the market".

The group's real estate business Godrej Properties had a total income from operations at Rs 458.85 crore (Rs 4.58 billion) in the April-September period while its FMCG vertical under Godrej Consumer Products Ltd had posted sales of Rs 2,992.43 crore (Rs 29.92 billion) during the same period.

Commenting on its FMCG business, Godrej said the company expects over 40 per cent of its revenues from overseas markets in the current fiscal as the company has been expanding in these markets.

"... In this financial year, we expect a little over 40
per cent of Godrej products sales turnover will come from outside India and we have businesses now in several countries like in Asia, Africa and South America," Godrej said.
He added that the company has been growing in overseas markets because it has been able to take its products and business model to these geographies.
"Our biggest geography outside India will be our Indonesian operations," he said adding the company is focusing on personal and household care products in this particular market.
"A company which we bought in Indonesia which is a leader in products like air fresheners and has a small food business. We have sold the food part of the business so we will use that fund in investing more in other areas," Godrej said.
Last week, the company had announced to sell its Indonesian food business to private equity firm Creador.
Godrej added that the company constantly keeps looking for acquisitions in global markets.
When asked if the company is looking to invest in Uttar Pradesh, Godrej said: "Yes we have plans. We have already started investments in our agri product business. We will look at more."
Speaking about the company's succession plan, Godrej said: " ...For every senior person in our organisation we have one two or three alternative people to take over."
"..and as far as family succession, we do not discuss publicly but I have three children already in the business and very active, very successful and very passionate about the business," he added.