'Last year we sold 18 million phones in India, this year we should do 23-24 million, and next year our target is to hit 40 million.'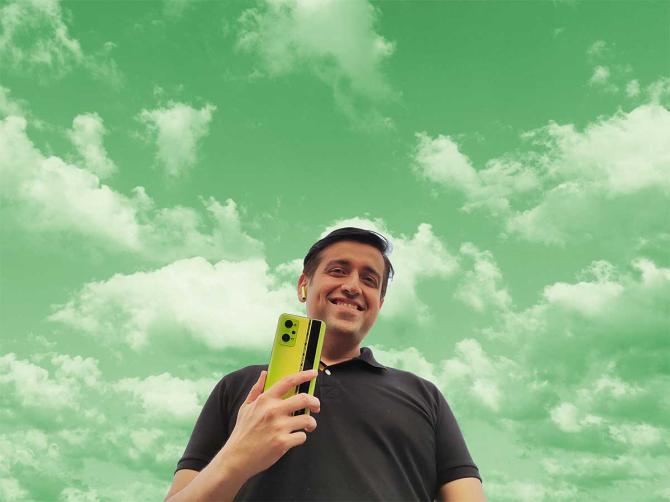 Mobile device maker Realme is all set to take on big boys Samsung and Xiaomi and is aiming to be the Number One player in the mobile device space in India by 2022.
The brand, co-founded by Madhav Sheth and Sky Li, initially for India, is also trying to take on its mobile device rivals in the consumer electronics space and targeting to be among the top five players in India in television, laptops, wearables and tablets in the next two years.
Data from Counterpoint reveals that Realme, launched in India in May 2018, is already the third highest selling brand in the country, with a market share of 15 per cent in Q3 2021 (the same as Vivo) and is close behind Samsung (17 per cent) and Xiaomi (23 per cent).
It has also replicated the Indian model of offering value-for-money phones, without compromising on the specifications, and has sold over 16 million phones globally in Q3 2021.
Sheth, also the CEO of Realme India, says: "We want to be the Number One player in 2022 in mobile devices in India. Last year we sold 18 million phones in India, this year we should do 23-24 million, and next year our target is to hit 40 million."
Despite these numbers, Sheth says India, which is their largest market, will account for 30 per cent of Realme's sales, going forward.
Last year the country accounted for half of its overall sales, but now the company is expanding in a big way in the markets of south east Asia, Europe and Latin America.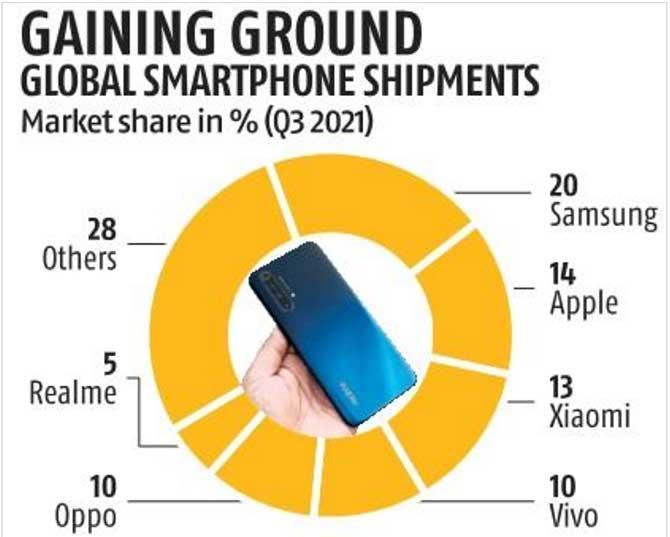 Sheth, who is responsible for global sales, is now spending time in Europe to focus on that market.
Based on its global market shipments in Q3 21, Realme is already amongst the top three android smartphone brands in Russia. And in markets like Poland, the Czech Republic, Greece, Slovenia and Belarus, it is amongst the top five players.
It has also bagged a 3 per cent share of the European market in Q3 2021.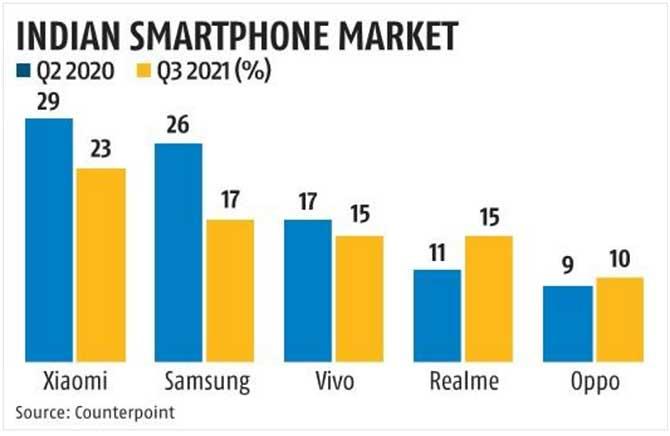 The company assembles all its phones sold in India within the country and says that it has achieved a 70 per cent localisation of its phones.
As for the global market, while some are exported from India, the company relies on assembly plants in various parts of the world.
The average selling price of Realme phones in India is just over Rs 11,000. However, it is now planning to launch devices in the Rs 50,000-plus category to take on players like Samsung and One Plus.
Seth says while 30 per cent of its sales are online, physical sales comprise the bulk of the market as consumers still prefer to have a touch and feel experience before buying.
The company says it is planning to hit 55,000 outlets next year, compared to around 30,000 currently. It also plans to expand its experience centres to over 1,000 in the same period, a more than three-fold increase from the current number.
Feature Presentation: Ashish Narsale/Rediff.com