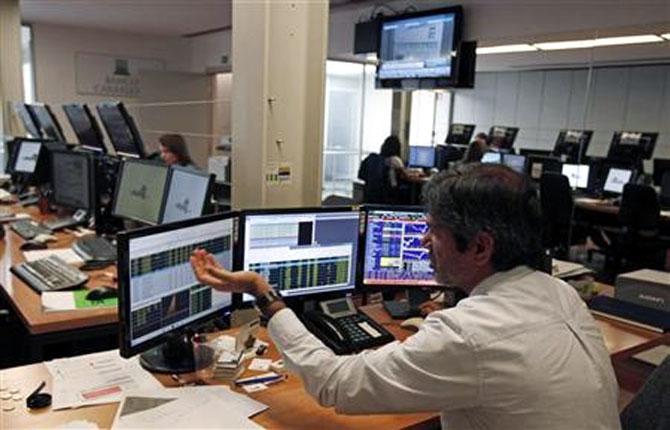 The Royal Bank Scotland on Thursday lowered its forecast for the NSE Nifty to 9,200 points from 10,000 it pegged in December.
The bank cited delayed reforms because of state elections later this year apart from weaker corporate earnings as reasons.
"We are revising our earlier Nifty target from 10,000 to 9,200 by December because reforms are going slower than market expectations and the recent weaker-than-expected earnings," RBS Private Banking India chief investment officer Rajesh Cheruvu told reporters in Mumbai.
The evolving political situation and the forthcoming Bihar assembly elections may force the government to hold back key legislative measures to the Winter Session, the brokerage warned.
On interest rates, he said the Reserve Bank is likely to cut rates by 25 basis points in the last quarter of 2015, if inflation remains under check and monsoons does not fail.
Many other large foreign brokerages like Citi, HSBC and UBS among others have already cut their market targets.
He said a combination of factors like re-emergence of retrospective tax issues and delay in GST rollout has 'added to the disappointment of the market' which led to the recent correction.
First time since 2013, the benchmark Sensex closed in red in the June quarter with a 0.4 per cent loss, while the broader Nifty slipped 1.44 per cent during the quarter.
According to Cheruvu, all the positive initiatives by the government 'will have a medium to longer-term impact', therefore the revision in its market outlook.
He also observed that next two to three months are crucial for the markets on account of monsoons, Parliament session and Bihar elections which may hold back important bills to the Winter session.
"So given this, market participants may not want to pump in fresh money in the short-term. . .," Cheruvu said.
It sees corporate earnings to improve from the December quarter on back of low inflation and commodity prices and falling interest rates that may provide space for recovery.
The image is used for representational purpose only; Photograph: Reuters