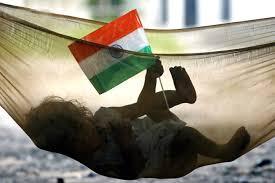 Disappointed with the Reserve Bank's decision to hold a key interest rate, India Inc on Tuesday said the apex bank should have cut the repo rate to catalyse demand and induce investments while inflation is on a downward trajectory.

Emphasising that revival of growth should be the number one priority of the RBI at this time, industry groups said apprehensions about inflation rearing its head again may prove to be misplaced.

"At a time when growth impulses remain weak and World Price Index inflation has been on the declining trajectory, the RBI should have taken this opportunity to announce a cut in policy rates, which would stimulate demand and kick-start the investment cycle," Confederation of Indian Industry Director General Chandrajit Banerjee said.

The Reserve Bank today kept the key policy rate (repo) unchanged at 8 per cent, and the cash reserve ratio static at 4 per cent, saying retail inflation remains 'sticky'.

"Tweaking policy rates downwards would help lift business sentiments. We feel relying primarily on monetary policy for inflation management may not be a comprehensive approach.

There are administrative fixes and fiscal measures that need to be adopted," Ficci President Sidharth Birla said.

The central bank also introduced steps to increase liquidity and contain volatility in the money market by halving the overnight call money rates and increasing the 7-day and 14-day repo limits.

"The RBI had the opportunity to give growth a chance to reinvigorate by reducing the policy interest rates and reviving the investor sentiment," Assocham President Rana Kapoor said.

If inflation continues along the glide path of reaching 8 per cent by January 2015 and 6 per cent by the year after, RBI Governor Raghuram Rajan said there won't be any rate hikes.

"The RBI status quo on policy rates is disappointing as the industrial growth is severely impacted by high cost of funds and other structural rigidities in the economic system like poor infrastructure and high transaction costs," said Sharad Jaipuria, President of the PHD Chamber.

"The exporting community was looking towards the RBI to reduce the policy interest rates.

"Thus, we are disappointed," EEPC India Chairman Anupam Shah said.

The RBI pegged gross domestic product growth in 2014-15 at 5.5 per cent.

It also said the current account deficit in FY14 would be about 2 per cent of GDP.
Image: A child holds a national flag; Photograph: Reuters