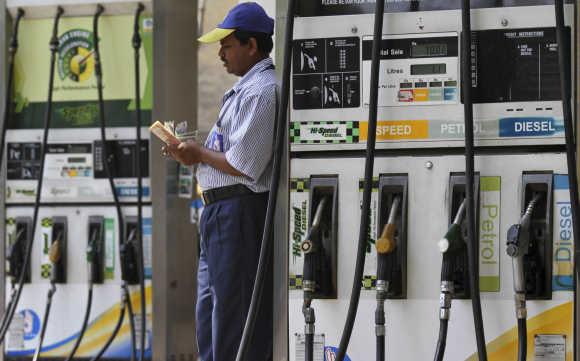 With crude and commodity prices ebbing and the twin deficits under check, the Reserve Bank should have cut the key policy rate to push investments and boost economic growth, India Inc said.
"By all indications, the twin deficits – fiscal and current account are well under control and core inflation has been trending downwards. While on the other hand, industrial production has been muted. This could have been a good opportunity for the RBI to reduce rates," said CII Director General Chandrajit Banerjee.
"The infusion of liquidity at this juncture, through a reduction in policy rates, would have provided an impetus to the feel good factor brought on by the recent burst of policy announcements made by the government," he added.
Reserve Bank Governor Raghuram Rajan left all key rates unchanged citing increased risks to inflation and difficult external situation especially on the geopolitical front.
This is the fourth consecutive time that the RBI has kept key interest rates unchanged despite clamours from the industry to cut rates to boost economy.
"With crude oil prices having come down significantly and showing further prospects of reduction and commodity prices in the global market seeing downward trend, the Reserve Bank would not have taken any inflationary risks if policy interest rates were eased a bit signalling accommodation for boosting growth," Assocham President Rana Kapoor said.
"In fact, the macro picture at this point of time is ripe for policy accommodation for growth," he added.
The short-term lending rate (repo) rate now stands at 8 per cent, and the cash reserve requirement of banks at 4 per cent. The statutory liquidity ratio (SLR) has also been retained at 22 per cent.
"As projects come on-stream and the industrial economy starts moving, there will hopefully be greater demand for credit. While we fully appreciate the measures taken by RBI in maintaining adequate liquidity in the system, I would like to mention that the viability of fresh investments is impacted by many factors including the cost of credit," Ficci Secretary General A Didar Singh said.
Explaining the rationale for status quo policy, Rajan said though wholesale price index (WPI) inflation has ebbed to levels consistent with 8 per cent inflation by January 2015, "there are risks from food price shocks as the full effects of the monsoon's passage unfold, and from geo-political developments that could materialise rapidly."
"We believe there has been a significant decline in inflation scenario during the recent months. The upside risks to inflation are also receding in the wake of softening international crude oil prices and stability in the foreign exchange market. At this juncture, a cut in policy rates would not only be fruitful to uplift the lacklustre industry growth trajectory but also be inevitable to create demand in the economy," PHD Chamber President Sharad Jaipuria said.